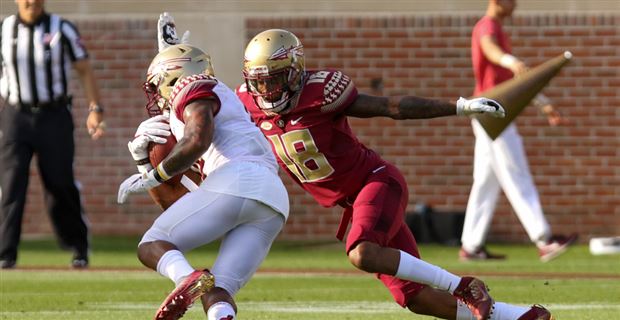 TALLAHASSEE -- Florida State cornerback Stanford Samuels III gradually saw his role expand as a freshman, to the point where he emerged as one of the Seminoles' top playmakers by the end of the season.
Now, entering the 2018 campaign, Samuels is poised to enter the starting lineup at a full-time capacity. He's versatile enough to start at a couple positions, which is why Samuels comes in at No. 14 on our list of FSU's 40 Most Important Players of 2018.
Here is how we assembled our list of FSU's 40 Most Important Players: We tried to blend overall talent and projected contribution in 2018 with how vital a player's success is to the team's success. This list isn't solely based on the mindset of "who is the best" talent. So a player at a position of more significance -- like quarterback -- will be given more consideration than a player at a less impactful position. Additionally, we focused on depth and stability at each position to determine just how "important" a player will be for FSU this season.
Samuels' Profile
Class: Soph.
Height: 6-2
Weight: 184
Hometown: Pembroke Pines, Fla.
High School: Flanagan High
247Sports Composite ranking: Four-Star (2017)
--No. 38 Nationally
--No. 4 CB
--No. 6 in Florida
Stats
2017
Totaled 27 tackles, including 3.0 tackles for loss with 1.0 sack and two interceptions in 13 games (one start).
PFF Grade: 70.6
2018 Outlook
Samuels is going to start. He's too good not to. It's just a matter of where.
The long, athletic defensive back demonstrated the instincts and fundamentals to make an impact as a true freshman. He built on his skill set during the spring, flashing elite fluidity at corner while also taking reps at the important field-safety position.
FSU has the benefit of mixing and matching within its secondary. Levonta Taylor seemingly has one cornerback job locked down after shining as a sophomore last season, but FSU spent a good portion of the spring toying with other combinations. There are three capable safeties in Hamsah Nasirildeen, Cyrus Fagan and A.J. Westbrook. And there is an experienced corner in Kyle Meyers, as well as promising newcomers Asante Samuel Jr. and Anthony Lytton. It would be ideal if Fagan exits the preseason as the surefire field safety, allowing Samuels to play his natural position of cornerback.
If FSU does put Samuels at safety, it would be because it's a rigorous position within this scheme and it requires both top-tier athleticism and decisioning making.
Whether he's at corner or safety, Samuels appears ready to take the next step as a sophomore.
Why No. 14
The overall skill, mindset and versatility make Samuels a safe pick to start. His flexibility will allow FSU's staff to pick from several lineup combinations as it gets to know its new personnel, and that's pretty valuable.
Additionally, FSU's depth at corner isn't superb. There's talent there, but not a ton of experience. This defense needs Samuels to make the jump from solid role player to good starter if it's going to get back to being a dominant unit.
Previously...
FSU Football's No. 40 Most Important Player- Freshman WRs Tre'Shaun Harrison, Jordan Young and Warren Thompson
FSU Football's No. 39 Most Important Player - Junior LB Adonis Thomas
FSU Football's No. 38 Most Important Player - Senior DT Fred Jones
FSU Football's No. 37 Most Important Player - Freshman CB Asante Samuel Jr.
FSU Football's No. 36 Most Important Player - Junior LB Josh Brown
FSU Football's No. 35 Most Important Player - Sophomore LB Leonard Warner
FSU Football's No. 34 Most Important Player - Junior CB Kyle Meyers
FSU Football's No. 33 Most Important Player - Freshman DE Xavier Peters
FSU Football's No. 32 Most Important Player - Freshman LB DeCalon Brooks
FSU Football's No. 31 Most Important Player - Junior WR Keith Gavin
FSU Football's No. 30 Most Important Player - Senior S A.J. Westbrook
FSU Football's No. 29 Most Important Player - Senior DE Wally Aime
FSU Football's No. 28 Most Important Player - Junior P Logan Tyler
FSU Football's No. 27 Most Important Player - Junior LB Emmett Rice
FSU Football's No. 26 Most Important Player - RS Freshman RB Khalan Laborn
FSU Football's No. 25 Most Important Player - Sophomore OL Mike Arnold
FSU Football's No. 24 Most Important Player - Sophomore S Hamsah Nasirildeen
FSU Football's No. 23 Most Important Player - Sophomore DE Janarius Robinson
FSU Football's No. 22 Most Important Player - Sophomore S Cyrus Fagan
FSU Football's No. 21 Most Important Player - Sophomore OL Jauan Williams
FSU Football's No. 20 Most Important Player - Freshman S/LB Jaiden Woodbey
FSU Football's No. 19 Most Important Player - Sophomore TE Tre' McKitty
FSU Football's No. 18 Most Important Player - Sophomore DE Joshua Kaindoh
FSU Football's No. 17 Most Important Player - Junior OL Cole Minshew
FSU Football's No. 16 Most Important Player - Sophomore DT Marvin Wilson

FSU Football's No. 15 Most Important Player - Senior RB Jacques Patrick