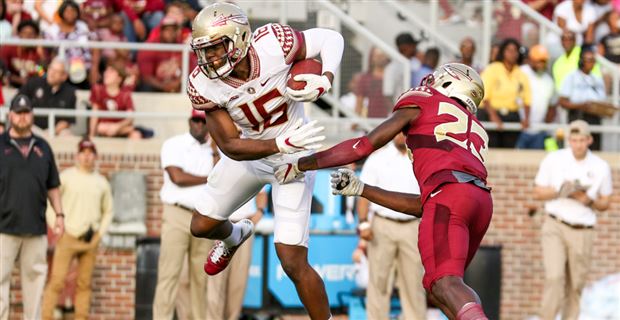 TALLAHASSEE -- Florida State tight end Tre' McKitty believes he plays a "special position"...especially within Willie Taggart's spread scheme.
"We have to be able to do everything on the field," McKitty said earlier this spring. "Catch the ball, run routes as good as a receiver. And block as good as a lineman. Tight end is a special position."
The sophomore, after playing sparingly last year, figures to be atop the depth chart at tight end entering this season. Taggart is creative in moving his tight ends around the field in order to create adventurous matchups, which is why the versatile McKitty checks in at No. 19 on our list of FSU's 40 Most Important Players of 2018.
Here is how we assembled our list of FSU's 40 Most Important Players: We tried to blend overall talent and projected contribution in 2018 with how vital a player's success is to the team's success. This list isn't solely based on the mindset of "who is the best" talent. So a player at a position of more significance -- like quarterback -- will be given more consideration than a player at a less impactful position. Additionally, we focused on depth and stability at each position to determine just how "important" a player will be for FSU this season.
McKitty's Profile
Class: Soph.
Height: 6-5
Weight: 241
Hometown: Wesley Chapel, Fla.
High School: Bradenton (Fla.) IMG Academy
247Sports Composite ranking: Three-Star (2017)
--No. 397 Nationally
--No. 15 TE
--No. 51 in Florida
Stats
2017
One catch for 23 yards in 11 games.
PFF Grade: 48.6
2018 Outlook
Ryan Izzo (NFL Draft) and Mavin Saunders (transfer to Kansas) are gone a year early, opening up playing time for McKitty.
He's still raw, but McKitty is a freaky athlete who has the potential to flourish while playing in space. If history is any indication, look for Taggart to move McKitty into the slot, as a wideout or an H-back in order to take advantage of his speed and size.
There are some others who stand to get reps at tight end -- i.e. junior Gabe Nabers (converted fullback), junior Naseir Upshur and true freshman Camren McDonald -- but McKitty looks to be the most natural fit within Taggart's offense at this time. Taggart hasn't heavily featured the position since transitioning to the spread, but it has been a supplementary spot that produces big plays in the passing game.
Why No. 19
FSU's lack of proven depth at receiver makes tight end all the more valuable. Because McKitty is expected to regularly line up in the slot, it stands to reason that he'll serve as a pseudo-receiver in this offense.
We saw him make some spectacular moves after the catch in the spring game, giving a glimpse of what playing in space can do for a big athlete like McKitty. It's unlikely that McKitty will be featured in the offense, but look for him to provide a safe target for quarterbacks and to make some splash plays throughout the season. Given the lack of proven commodities at receiver, getting some production from McKitty would be a big boost.
Previously...
FSU Football's No. 40 Most Important Player- Freshman WRs Tre'Shaun Harrison, Jordan Young and Warren Thompson
FSU Football's No. 39 Most Important Player - Junior LB Adonis Thomas
FSU Football's No. 38 Most Important Player - Senior DT Fred Jones
FSU Football's No. 37 Most Important Player - Freshman CB Asante Samuel Jr.
FSU Football's No. 36 Most Important Player - Junior LB Josh Brown
FSU Football's No. 35 Most Important Player - Sophomore LB Leonard Warner
FSU Football's No. 34 Most Important Player - Junior CB Kyle Meyers
FSU Football's No. 33 Most Important Player - Freshman DE Xavier Peters
FSU Football's No. 32 Most Important Player - Freshman LB DeCalon Brooks
FSU Football's No. 31 Most Important Player - Junior WR Keith Gavin
FSU Football's No. 30 Most Important Player - Senior S A.J. Westbrook
FSU Football's No. 29 Most Important Player - Senior DE Wally Aime
FSU Football's No. 28 Most Important Player - Junior P Logan Tyler
FSU Football's No. 27 Most Important Player - Junior LB Emmett Rice
FSU Football's No. 26 Most Important Player - RS Freshman RB Khalan Laborn
FSU Football's No. 25 Most Important Player - Sophomore OL Mike Arnold
FSU Football's No. 24 Most Important Player - Sophomore S Hamsah Nasirildeen
FSU Football's No. 23 Most Important Player - Sophomore DE Janarius Robinson
FSU Football's No. 22 Most Important Player - Sophomore S Cyrus Fagan
FSU Football's No. 21 Most Important Player - Sophomore OL Jauan Williams

FSU Football's No. 20 Most Important Player - Freshman S/LB Jaiden Woodbey