The Florida State staff extended a new offer on Saturday night to Orange (Ca.) Lutheran four-star wide receiver Kyle Ford. The offer comes a few days after Ford said at The Opening that he has interest in FSU and would like to hear from the staff more.
Noles247 reported on Friday that Ford and the staff had been in touch and two days later Ford got the offer. Now we'll see if he sets an official visit up with the Seminoles this fall. Ford has not named any favorites. He has over two dozen offers but says a few teams standout.
"I'm still (weighing) my options a little bit," Ford told 247Sports regarding his leaderboard prior to his offer from FSU. "I think the main ones (are those) that I visited and (that) I take a little more serious like Oregon, Colorado, Michigan… I went out there and obviously I'm pretty high on them, USC, and UCLA… those are just a couple of them. But I'm open to anything. I've just got to go take a couple visits. I've also been talking to Ohio State a little bit."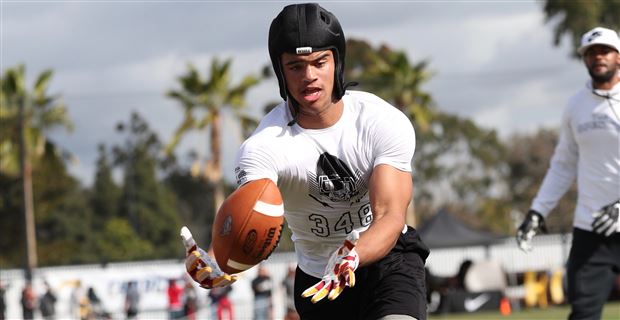 While at The Opening, Noles247 learned that FSU commits were in Ford's ear. This year the 'Noles have one wide receiver commitment from four-star Maurice Goolsby and are looking to sign one or two more elite prospects at the position. Ford, who won the MVP of The Opening Finals, is now one of those targets along with George Pickens (Auburn commitment), Jadon Haselwood (Georgia commitment), Bru McCoy and John Dunmore (Penn State commitment).
Ford is confident in his ability as a receiver and isn't going to shy away from competition.
"Honestly, I feel like I can go into anywhere and I can compete for a starting spot," Ford said. "I always have confidence in my game, no matter how many people are there, so that's not the biggest factor for me ever."
What is he looking for when choosing a program?
"The school -- a life after football, the connections, the schooling, everything. I kind of take everything into consideration. I'm not just a straight football guy. I want to be prepared for my life, to set my life up, so that's a big part."
Ford has not set a timetable for a final decision. He plans on taking his official visits in the fall before making an announcement. He took an official visit to Colorado in the spring and has said he has interest in visiting Michigan and Oregon on officials this fall. FSU will now work to land one of his final official visits as well.
Ford is a four-star prospect, the 7th ranked wide receiver in the country and the 45th best player overall, according to the 247Sports Composite Rankings.