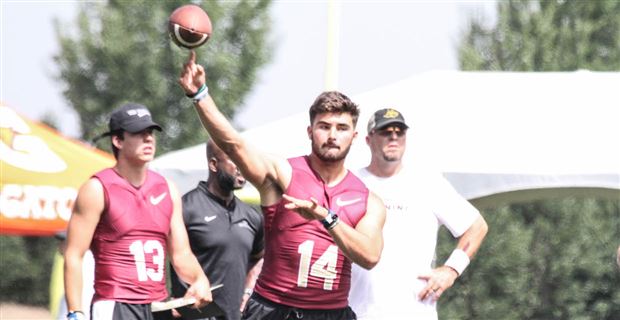 Florida State had four commitments in Dallas representing the Seminoles at The Opening last week. Today, Noles247 caught up with two National Analysts from 247Sports to get their thoughts and opinions on how Sam Howell, Akeem Dent, Renardo Green and Quashon Fuller performed.
Director of Recruiting Steve Wiltfong & Director of Scouting Barton Simmons give their observations on FSU's commitments after watching them perform at The Opening.
4-Star QB Sam Howell:
Wiltfong: "Sam Howell is one of the top quarterbacks in the country. He's proved that to me every time I've seen him, beginning with Atlanta Nike, showcasing a terrific and accurate arm in lousy weather, then on to Adidas 7on7 National Championship where he lit up the scoreboard with a group of teammates he had no familiarity to The Opening Finals where he was the touchdown maestro, regularly leading his team to the end zone. His arm talent is as good as any in the country, he sees things develop, is a good decision maker with the football and his best trait might be his personality. Howell is the same whether things are going well and the few times he's not on his game. He's talented and poised. He should be up for the challenge in Tallahassee."
Simmons: "I really liked Sam Howell. There was different points during the week when he looked like the best quarterback there, then at times he wasn't as sharp. I really like his ability to throw on the run, outside the pocket and that's not something the 7on7 showcases. When he was in a rhythm he clicked as well as any QB out there and he did it without some of the big name receivers some others had. I came away with the feeling Howell may be the safest bet at quarterback of anyone in this class."
=========================
5-Star CB Akeem Dent:
Wiltfong: "I think Akeem Dent is going to be terrific in Tallahassee. There isn't a position in the secondary he can't play, He hurt his ankle during the tournament but when he was out there he was one of the top cover guys of the entire camp. Between his awareness and instincts and technique, he's able to typically erase who he's locked up with. He's also a guy looking for the toughest matchup and will move to the slot if that's where the other team's alpha is. Dent is extremely competitive, will look to match up with the other team's best receiver. He may not be an elite athlete but his speed is plenty good and his quickness and high football IQ make him one of the best in this class."
Simmons: "Akeem Dent has been on this cusp of five star status for a while and this was another event where he was so close to grabbing that fifth star. Early in the week he looked as good as any cornerback there, but late in the day Monday he got beat a few times and that sort of stained his record a bit. As far as his body of work across the week, I'd put him as one of the elite corners at the event. I like his speed, ball skills and think he's still in contention for a five-star grade. We'll continue to watch him closely."
==========================
3-Star CB Renardo Green:
Wiltfong: "I saw Renardo Green get challenged on three straight-plays and he racked up two pass breakups and was a factor on the third incompletion. Like Dent, he's not going to blow you away athletically, and he's not as versatile as it stands right now, but he can play on the perimeter and seems to understand how receivers are attacking him and how to react. If the ball comes his way he's looking to make a play on it just the same as the offense. Green was solid the entire tournament, held his own against the top receivers in the country."
Simmons: "Renardo Green flashed a couple times for sure. He had good and bad plays. I saw him get beat a few times, but that's going to happen at an event like this. He made plays downfield, stayed in the hip pocket of receivers, some of the best in the country at that, he looked comfortable out there. He plays with great energy and looked like a really good option at cornerback."
=========================
4-Star DE Quashon Fuller:
Wiltfong: "Quashon Fuller is interesting. Coming off an injury his junior year he was ready to battle in Dallas. It's obvious he has some quickness to him, he'll mix it up at the point of attack and he brings some power. The first step is his strength right now. The exciting part is he's a solid defensive tackle right now with plenty of room to fill out and add good weight. He won more than he lost in full pads during 1-on-1s taking on some of the best offensive linemen in the country. When he's wearing an FSU jersey he's going to have 20 more pounds of muscle behind him. He's not coming to Tallahassee to reshape his body. He's coming to add mass. I think he's got some nice potential."
Simmons: "Quashon Fuller had ups and downs in terms of his win-loss record during one on ones, but I came away from this event feeling very confident as him as a player because of his athleticism. Down the road I think he's an athletic interior guy. He was one of the quickest and most explosive interiors lineman at the event. He showed a high ceiling across his three days of work."