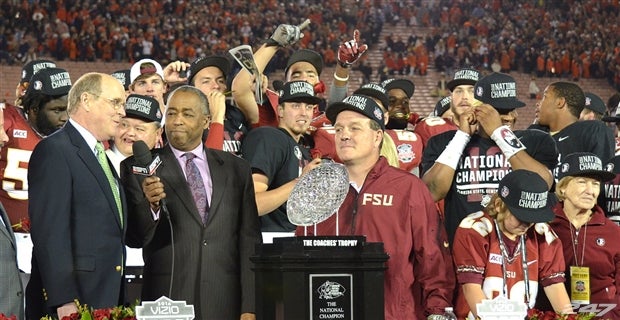 Florida State football has experienced several great seasons through the years. They've won there National Championships and have had three Heisman trophy winners. Bobby Bowden won two championships and Jimbo Fisher won one. But how do you determine which season was best? Chip Patterson of CBSSports did just that. He came up with the best season of every ACC program.
Patterson identified FSU's 2013 season as the greatest for the Seminoles. Jimbo Fisher's championship run came during the fourth year of his tenure at FSU. It was Jameis Winston's redshirt freshman year and everything fell into place for the 'Noles that year.
Here's Patterson's reasoning for choosing FSU's 2013 season as the Seminoles greatest ever:
As prisoners of the moment, sports fans are guilty of wondering aloud if everything they are watching is the greatest or worst of all time. In the moment, conversations about this Florida State team existed almost entirely in the orbit of Jameis Winston. Hindsight has expanded the frame of view to allow us to appreciate what I think was the best team in the storied history of Seminoles football. The 1999 team, which went wire-to-wire at No. 1 after finishing as the runner-up to Tennessee the previous season, is just as worthy of this honor, but choices have to be made and I want to use this space as a reminder of the 2013 team's historical dominance.
Florida State was No. 1 in the country in kickoff return yardage, interceptions, passing yards allowed, red zone offense, scoring defense, passing efficiency and set a new NCAA record with 723 points. The Seminoles were also top-five in the country in total defense, scoring offense per game, turnover margin and set nine new ACC records that included scoring margin, touchdowns and consecutive 40-point games. It wasn't until Auburn was up 21-3 in the second quarter of the BCS Championship Game that FSU showed any signs of being stopped, but we know how that story ended.
Record: 14-0 | Final ranking: No. 1
Coach: Jimbo Fisher | MVP: QB Jameis Winston
Championships won: National (BCS), ACC
Accolades: Heisman Trophy (Winston), Walter Camp Award (Winston), Davey O'Brien Award (Winston), AP Player of the Year (Winston), Lou Groza Award (Roberto Aguayo), Rimington Trophy (Bryan Stork), AFCA Coach of the Year (Fisher), three consensus All-Americans (Winston, Stork, Lamarcus Joyner)
NFL Draft picks on the roster: 23
Did you know? Four players from this team have made the NFL Pro Bowl.
===========================================
Full Story: Every ACC teams 'best season ever'
What do you think? Was FSU's 2013 year better than their 1999 wire to wire championship? Was the 1993 team the best? Or is there a different year that stands out to you? Tell us what you think.