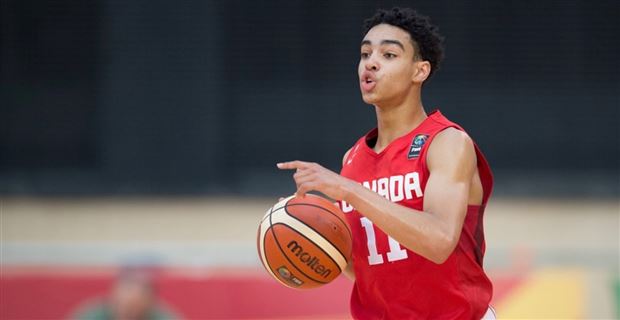 The U18 Team USA squad destroyed its competition Monday, jumping out to a 45-0 lead in the early second quarter, leading Panama 70-8 at halftime and winding up with a 118-26 victory. But that doesn't mean that the US is just going to run away with the title: ESPN's Fran Fraschilla tweeted that the Americans could get challenged by what appears to be a strong Canada squad.
"Assuming @usabasketball & @CanBball meet in #fibaamericasu18 Final, it will be a street fight," Fraschilla tweeted. "No RJ Barrett but talent level at grassroots level is phenomenal Up North."
The main reason for that challenge? Florida freshman point guard Andrew Nembhard, who isn't just starting for the Canadians, he's logging a dominant tournament so far. Despite playing fewer than 14 minutes in Canada's second game as it ran out ahead of Ecuador, Nembhard is averaging 21 points, five rebounds, 7.5 assists and 2.5 steals per game.
Jerry Meyer, 247Sports director of scouting, said that Nembhard shows great balance between scoring and distributing, and he's done both well. Canada opened with perhaps the third-best team in attendance in Argentina, yet won 92-75 as Nembhard scored 28 points to go with seven rebounds and six assists.
He got his teammates more involved in an 115-75 thrashing of Ecuador, finishing with 14 points and nine assists in just 13:25 of game play. And he's made 5-of-11 three-pointers (45.5 percent) to boot.
That kind of play has to make Florida fans drool. Nembhard picked the Gators after a terrific run as Montverde Academy's point guard, earning a spot as the No. 5 point guard and No. 26 overall player in the 247Sports Composite, garnering a five-star ranking.
"He has great composure on the court and plays a very controlled game," Meyer said."He's the kind of guy that brings a team together. He's a very good passer who plays with strength and he shoots it well enough to keep you honest. He displays a great balance between scoring and setting up his teammates.
"He's a traditional, old school, set guys up with the pass first-type point guard," Meyer said.
And that, along with Nembhard's teams stacking up the victories both in summer ball and at Montverde, has given him the reputation of a 'winner.'
"He absolutely plays winning basketball," Meyer said. "Yeah, he's been on some really good teams in travel ball and with Montverde, but he plays winning basketball. Anywhere he plays, the team wins, thanks to both his intangibles and his physical skills."
So what kept Nembhard just behind the elite point guards in the 2018 class?
"I think the main thing was his foot speed, quickness and overall athleticism," Meyer said. "That could impact him defensively and his ability to get penetration against elite defenders. But I wouldn't be a bit surprised if he outplayed his ranking."
He'll get a chance to do that, likely against a USA team loaded with top recruits, but also once he heads to Gainesville to start his college career. Fraschilla called Nembhard a future starting point guard, but Meyer said the future could come quickly, with Nembhard's game making him an ideal fit next to seniors KeVaughn Allen and Jalen Hudson.
"He has a mature game," Meyer said. "I think he was probably going to be good anywhere, but those two guys are lethal scorers and explosive, and he's only going to make them better.
"He has an understanding and a feel for creating opportunities for players like that to score," Meyer said. "I think those guys are going to love playing with him."