The bright lights of Bankers Life Fieldhouse brought the Indiana All-Stars some redemption tonight.
Behind 16 first half points from Mr. Basketball Romeo Langford, Indiana earned a 56-30 lead at the break and cruised from there to a 109-81 win over Kentucky.
The win was a stark contrast over a 100-89 loss to Kentucky on Friday night at Bellarmine's Knights Hall in Louisville.
"I thought we played much harder, much more focused," Indiana coach Jim Shannon said. "Last night our chemistry wasn't as good as it needed to be."
Defense helped build the huge lead as the Kentucky All-Stars were held to just 9-for-37 shooting (24.3 percent) in the opening half. For the game Kentucky was just 33.3 percent from the field and missed 33 shots from behind the arc.
For the second straight night Markelo Sullivan led Kentucky, tossing in 21 points tonight. He's headed to Moberly Community College in Missouri.
"Tonight we did get into them and help in the gaps more," Shannon said. "Coach (Scott) Radeker had talked to me last night, 'maybe we should just play pack-line with these kids.' Because we maybe underestimated Kentucky's talent—they don't have the heralded D-1 signees. But a lot of kids go juco that could play D-1, they're just going to junior college for various reasons."
Langford had a quiet second half but still led all scorers with 22 points and was named MVP for the contest. He was 7-for-13 from the floor and had team highs in assists (4) and rebounds (8).
"I was more focused and locked in knowing that we don't want to be the team to go 0-2 against Kentucky," Langford said. "That's what got me and the team more focused for tonight."
Langford hit of his five 3-point attempts after missing all six from that distance in Louisville.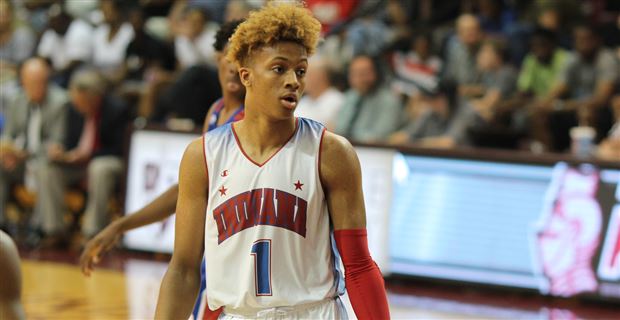 Kentucky head coach Scott Chalk was expecting a big game from Langford.
"I don't care how good you are, when your first first few shots don't go down you start to feel not so good about things," Chalk said. "That's part of it for any player. NBA players don't play as well when the first few shots don't go down….tonight he looked a lot more tied in and made some shots and had his confidence get up."
Michigan State signee Aaron Henry had 15 points including eight in a row in a stretch in the first half when Indiana extended it to a 20 point lead.
Miami-Ohio signee Mekhi Lairy also had 15 points. Indiana bound Damezi Anderson had a much better game, contributing 10 points and six rebounds in 18 minutes. Fellow Hoosier signee Robert Phinisee had three points and three assists.
The win for Indiana ended a two-game winning streak for Kentucky in the series. Until the second game last year, Indiana had won 17 straight games over its southern neighbors.
"One of the assistant coaches was kind of to tell me the last time Indiana has lost both times to Kentucky and it has been like 30 years," Shannon said. "So I was nervous before the game because nobody wants to be that guy."
Indiana also avenged a Friday defeat in the girls contest. Six different Indiana players finished in double figures. IU signee Grace Berger is on the Kentucky team and led all scorers with 18 points tonight.
Click here for a tweet of the complete box score for the girls game.
Here's a look at the box for the boys game.