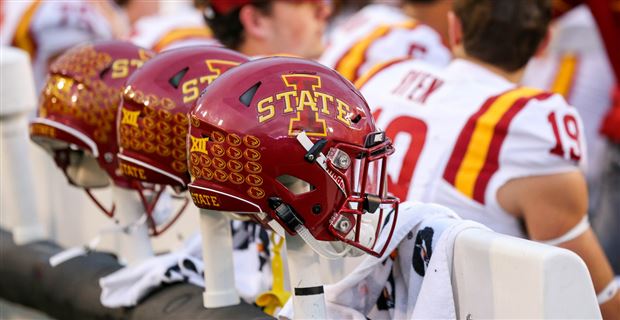 OTTUMWA, Iowa — Iowa State fans waiting on the unveiling of the program's new football uniforms might not have to wait much longer.
Matt Campbell first tipped off the uniform redesign last summer at Big 12 Media Days and hinted Monday after the Cyclone Tailgate Tour stop in Ottumwa that the secret designs may soon make an appearance to the public.
"I think we're waiting to get the final piece of it from Nike, but I definitely seeing it unveiling somewhere before the start of the season for sure," Campbell said of the program's new identity. "Hopefully here in the next month or so we've got some stuff we can get out to our fanbase."
Iowa State has made tweaks to its uniforms in each of Campbell's first two seasons, debuting 'Storm Grey' jerseys and pants and a new white helmet in 2017 and a new chrome red helmet at last season's AutoZone Liberty Bowl.
But the impending changes will be more drastic.
"Nike is going to give us the opportunity a year from now to totally redo all of our uniforms, which is really awesome," Campbell said last July in Dallas. "Does that win or lose football games? No. Does it help in recruiting? Is it things that kids talk about and like? Yes. Kids like gear."
It's possible Iowa State's uniform unveiling could come in time for summer official visits, which would further play into that recruiting bit. The Cyclones are expected to begin hosting official visitors in June.
Nike requires at least a full year to redesign uniforms and several programs across the country have unveiled new looks from the company in recent months. Campbell said in July that the general design and color combinations — black or anthracite, anyone? — had already been worked out with Nike as of then. Now the final details are being ironed out.
Uniforms have been a topic of conversation around the program since Campbell's arrival, mostly because of the opportunity for Iowa State to rebrand itself in the early stages of the program's rebuild, which saw it go 8-5 in Year 2.
"I just think the fact of creating a brand, especially a place like Iowa State, where we're trying to create a football image. For us, there are certainly peaks of Iowa State football in the past, but how do we sustain that? How do we get that to a point?" Campbell said in July. "I think you always have to try to brand yourself, your mission and what you're trying to do and get accomplished. In the world we live in, especially the world of recruiting I think that's important, what you stand for. I'm not the guy that thinks you have to change every year, but I think to be able to create an identity and help sustain that identity, I think that's important."