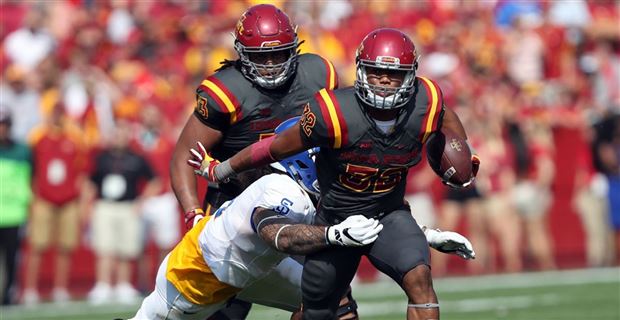 FRISCO, Texas — New uniforms are on the way for Iowa State.
After Matt Campbell and Co. debuted what he calls 'Storm Grey' uniforms last year as well as a new white helmet, the Cyclones will get a uniform overhaul during the 2018 season, Campbell told CycloneAlert at Big 12 Media Days.
"Nike is going to give us the opportunity a year from now to totally redo all of our uniforms, which is really awesome," Campbell said. "You'll see some unique changes this year as we go into it. I don't know if it'll be as drastic as it was a year ago. Does that win or lose football games? No. Does it help in recruiting? Is it things that kids talk about and like? Yes. Kids like gear."
Nike requires a year to design new uniforms, but Campbell said that process is actually nearly complete. Because they aren't totally finalized, Iowa State will use the same uniforms in 2017 before the overhaul takes place in 2018.
"We're done with that process or we're at least in the final stages of that," Campbell said of the Nike redesign. "The uniform design, the color combinations, all those kind of things [are done] for a year from now."
Uniforms have long been a hot topic surrounding Iowa State and Campbell began to implement his changes last season through the two initial additions. He knows wins and losses won't come from changes, but believes branding can be one of many tools to reshape the program he inherited in 2016.
"I just think the fact of creating a brand, especially a place like Iowa State, where we're trying to create a football image. For us, there are certainly peaks of Iowa State football in the past, but how do we sustain that? How do we get that to a point?" Campbell said. "I think you always have to try to brand yourself, your mission and what you're trying to do and get accomplished. In the world we live in, especially the world of recruiting I think that's important, what you stand for. I'm not the guy that thinks you have to change every year, but I think to be able to create an identity and help sustain that identity, I think that's important."
(What's next for the Cyclones? Make sure you're in the loop — take five seconds to sign up for our FREE Iowa State newsletter now!)