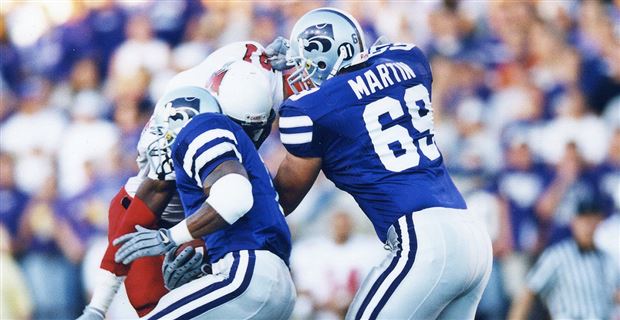 69 DAYS UNTIL K-STATE FOOTBALL KICKOFF
HIGHLIGHT ON: #69 MATT MARTIN, offensive tackle (1999-2001)
An honorable mention NJCAA All-American, Matt Martin redshirted the 1999 season and spent the 2000 season fighting for playing time. But Bill Snyder saw his potential in spring practice.
"Matt Martin proved that from time to time in the spring that he could be a member of the two-deep and be a productive member of the two-deep," Snyder said. "He had his ups and downs during the course of the spring. He did enough to show me that he's capable."
The 6-foot-5, 280-pound Martin, a native of Huntington Beach, Calif., and product of Long Beach City College, played in nine games on an offensive line that allowed only nine sacks all season and he blocked for a running game that tied the school record with 42 rushing touchdowns.
At one point during the 2000 season, he switched from No. 69 to No. 95 so that he could line up on offense as an extra tight end.
"Certainly it thins you out even more than you have been, but we can play him there or at the offensive tackle spot as well," Snyder said. "You just have to have enough players who are diverse enough and we have attempted throughout the course of the season to prepare that way. Virtually every player that we have on our offensive line has played at multiple positions."
Martin showed the capacity to step up when needed as he replaced injured left tackle Milford Stephenson in the first half against Missouri and performed admirably.
"Matt can play both tackles and Andy Eby can play center, guard and tackle. That's just out of necessity that we have to have that kind of versatility," Snyder said, "but they're pretty good athletes and can do those things."
Martin made strides heading toward his senior season.
"He's had a great summer," K-State head strength and conditioning coach Rod Cole said. "He benched 404 (pounds) and he's at 285 (pounds) and runs a 5.0 and has put himself into a position physically where he can make the people around him better. He's prepared to have a great senior year."
Although Martin earned his first-career start at left tackle in the season opener at Southern California, he went down with an injury and missed the next game against New Mexico State. He returned to start against Oklahoma and Colorado, but was injured against the Buffaloes and missed the next game against Texas Tech.
Two weeks later, Martin helped the Wildcats jump on Kansas from the start. On the game's first play from scrimmage, he blocked and helped create a lane for running back Josh Scobey, who darted 45 yards for a touchdown.
"Matt Martin, Andy Eby, Dralinn Burks, Steve Washington, Nick Leckey — hats off to those guys," Scobey said. "I'm going to have to take those guys out to eat. That's from me because it means that much to me."
Martin started in nine games in 2001 but his senior season was cut short due to injury prior to the 2001 Insight.com Bowl.
A LOOK AT THE PLAYERS WHO HAVE WORN NO. 69 IN THE BILL SNYDER ERA:
1989 - Josh Kolb, offensive guard
1990 - Josh Kolb, offensive guard
1991 - Josh Kolb, offensive guard
1992 - Josh Kolb, offensive tackle
1995 - Brian Nabours, center
1996 - Brian Nabours, center
1997 - Brian Nabours, center
1998 - Jarvis Miller, offensive line
1999 - Matt Martin, offensive tackle
2000 - Matt Martin, offensive tackle
2001 - Matt Martin, offensive tackle
2002 - Jon Beuthin, offensive line
2003 - Jon Beuthin, offensive line
2004 - Caleb Handy, offensive line
2005 - Caleb Handy, offensive line
2009 - Nick Ward, offensive line
2010 - Nick Ward, offensive line
2011 - Xavier Gates, defensive tackle
2011 - Nick Ward, offensive line
2013 - Reed Bergstrom, offensive line
2014 - Reed Bergstrom, offensive line
2015 - Reed Bergstrom, offensive line
2016 - Jacob Harshberger, defensive end