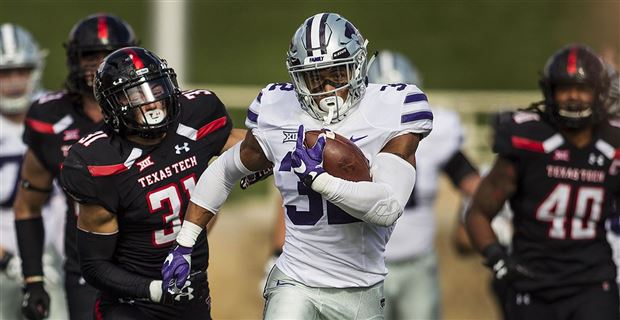 Recently, GoPowercat gained curiosity as to where Kansas State's contract to use Nike as its apparel supplier sat. Though it was not a thought that K-State and Nike might split, there had been no formal announcement in recent years of the two parties agreeing to new contract terms. Therefore, GPC sent an open records request to K-State in order to find the answer to that question.
What GPC found will be outlined in this story. However, we said, "Why stop there?" Additionally, GoPowercat has reached out to all of the schools in the Big 12 Conference — with the exception of Baylor and TCU, given that the two are private institutions — and looked to obtain the contracts between those schools and their respective apparel supplier.
This story, comparing the details of K-State's contract with Nike and Texas Tech's contract with Under Armour, is just another part of a series of stories to come from GPC, examining Big 12 apparel contracts.
GoPowercat Head Staff Writer/Basketball Beat Writer Riley Gates and Head Multimedia Producer Zac Carlson both contributed to this series of stories.
TERMS OF THE CONTRACT…
As stated in the first story of this series, K-State had an initial contract that lasted from July 1, 2006 through June 30, 2012. It had since been amended and extended a few times and now runs through June 30, 2021.
The most recent edition of Texas Tech's contract with Under Armour came in December of 2014 when Under Armour CEO Kevin Plank, Texas Tech Vice President for Administration and Finance and CFO Noel Sloan, Athletic Director Kirby Hocutt and Director of Procurement Services Jennifer Adling signed a contract good until June 30, 2020.
No other contract amendments have been added, therefore the Red Raiders currently have two years left before their contract with Under Armour is expired.
MONEY…
K-State's contract with Nike — which GoPowercat detailed greatly here — has changed payment plans a few times since 2006. However, the last amendment to the contract has K-State getting paid a set amount of money each year in annual product allotment. Beginning in 2012-13 and lasting through 2020-2021, the amounts for that product allotment are as follows: $1,655,500 in 2012-13, $1725,000 in 2013-14, $1,790,000 in 2014-15, $1,840,000 in 2015-16, $1,865,000 in 2016-17, $1,890,000 in 2017-18, $1,915,000 in 2018-19, $1,940,000 in 2019-20 and $1,965,000 in 2020-21.
According to Texas Tech's contract with Under Armour, each year, Texas Tech will receive an annual rights fee from Under Armour. The rights fee has increased $25,000 per year since the signing of the contract beginning in 2014. Texas Tech received $725,000 in 2014-15, $750,000 in 2015-16, $775,000 in 2016-17, $800,000 in 2017-18, $825,000 in 2018-19 and $850,000 in 2019-2020.
In addition to the rights fee payments, Texas Tech also receives a product allowance total from Under Armour each year. The product allowance has increased $75,000 each year, beginning with $1,625,000 in 2014-15, $1,700,000 in 2015-16, $1,775,000 in 2016-17, $1,850,000 in 2017-18, $1,925,000 in 2018-19 and $2,000,000 in 2019-2020.
Texas Tech must pay for the shipping cost of the products out of the product allotment. However, Under Armour will cover the specialization of products such as embroidery, player names, numbers and conference names if required, on team jerseys.
Another aspect in Texas Tech's Under Armour contract that K-State does not have in its Nike contract, is performance bonus payments in football, men's basketball, women's basketball, baseball and other teams.
Bonus payments in football are listed as: $500,000 for winning the national championship, $100,000 for playing in a bowl game other than the College Football Championship, $10,000 for a postseason game other than a bowl game, $25,000 for winning the conference championship and $10,000 for having the Head Football Coach of the Year.
In basketball bonuses are: $500,000 for winning the NCAA Tournament ($250,000 for the women's team doing so), $25,000 for winning the conference championship ($15,000 for the women's team doing so), $10,000 for making the NCAA Tournament ($5,000 for the women's team doing so), and $25,000 for having the Coach of the Year ($15,000 for the women's team doing so.)
Baseball bonuses are: $10,000 for making it to the College World Series and $25,000 for winning the College World Series. Other program bonuses are: $10,000 if a team other than football or basketball teams win the NCAA National Championship Tournament and $2,500 if any team other than football or basketball is the conference champion.
EQUIPMENT AND PRODUCTS…
In K-State's contract with Nike, there are extensive details as to what is and is not allowed when it comes to wearing the Nike products that have been provided to K-State. Not surprisingly, Texas Tech's contract with Under Armour is very similar to K-State's with Nike. However, there are a few differences, given the type of product Under Armour does and does not sell.
For example, coaches, team members or staff is allowed to use third party equipment, "in the event that the coaches or teams or staff members require equipment that is unavailable through Under Armour (e.g., golf-specific shoes)." However, they can only wear that third party equipment if it is not licensed, supplied, manufactured, developed, distributed, marked, branded or sold by a competitor. The individuals must also not endorse, sponsor, promote or advertise the third party equipment.
A good example for Texas Tech using a third party equipment is in game and practice balls. The football program uses Wilson-branded footballs. However, Wilson is "not granted any marketing, promotional, sponsorship, or other rights with respect to University or the football team." Under Armour also has the rights to first negotiation over footballs at the end of Wilson's agreement. The same goes for Texas Tech's soccer balls and volleyballs that the programs use.
MISCELLANEOUS DETAILS…
If Nike ever needed a K-State head coach for events or appearances, it was allowed access to the required coach twice in a contract year, with some stipulations such as the appearance could not be over 24 hours, including travel time. K-State got no additional payments from Nike for these. Under Armour has the same two appearance rule in its contract with Texas Tech, but no limits on the time of the appearance. Under Armour also will pay the bill for transportation, meal and lodging expenses.
Nike was given an allotment of tickets from K-State for all sporting events requiring a ticket. K-State was to provide six for football home games, conference championships and bowls. Also six for home men's and women's games, conference, NCAA or NIT tournaments, as well as four tickets to other ticketed events.
Under Armour also receives tickets for Texas Tech sporting events. Texas Tech will provide 20 club or field level tickets to football home games and 10 parking passes, 10 lower level tickets to away football games and 10 lower level tickets to any postseason football game. Under Armour will get tickets to both men's and women's basketball in the amounts of 10 lower level tickets for home games and five parking passes and eight postseason game tickets. For other sports, 10 tickets for home games, five parking passes and 10 lower level tickets to postseason play.
One very unique aspect of the Under Armour contract is that the company has purchased Commercial General Liability Insurance in $1,000,000 to "protect from all claims for bodily injury, including accidental death and personal injury arising from operations under this agreement."
TERMINATION…
K-State and Nike both had the right to terminate the contract between each other. Put simply, K-State's rights for termination were if Nike goes bankrupt, if Nike did not pay K-State properly or if Nike breaks the contract. Nike's rights were far more extensive and detailed.
Texas Tech and Under Armour have a very similar agreement. Both parties can terminate the agreement in the event of a material breach of any term or condition in the agreement and there is a failure to cure the breach in a timely manner. The non-breaching party must give a written notice of the breach and then the breaching party has 30 days within receiving the written notice to fix the breach.
Additionally, Texas Tech can terminate if Under Armour "petitions in bankruptcy voluntarily, is adjudicated bankrupt or insolvent, if any receiver is appointed for its business property or if any trustee in bankruptcy or insolvency is appointed under applicable law."
Under Armour's additional rights to termination come into play if the NCAA, Big 12 or any assignee of the two deprives Under Armour of promotional benefits and/or exposure of products not supplied by Under Armour, diminishes the size of the Under Armour logo, if Texas Tech does not field a Division I core team (football or men's and women's basketball), if the core teams are on NCAA probation, if any coach or the university disparages Under Armour, or if a coach, staff or team member fails to use the Under Armour products with the logos displayed properly.
CONCLUSION…
Yet again, this is another program that makes more money off of its apparel contracts than K-State does. While money is not the only factor of a contract, it is a rather large one and Texas Tech has a lot of guaranteed money, and also potential money, coming in.
Texas Tech will likely extend the contract with Under Armour when the time is necessary, so don't expect things to change there. And with the benefits that the Red Raiders get in this contract, why would they leave?
Be sure to stay locked in for the next part of this series from GoPowercat.