BILL SNYDER: Big 12 teleconference 11.20.17
Bill Snyder addressed the report regarding Jim Leavitt and K-State for the first time during the Big 12 coaches teleconference Monday morning.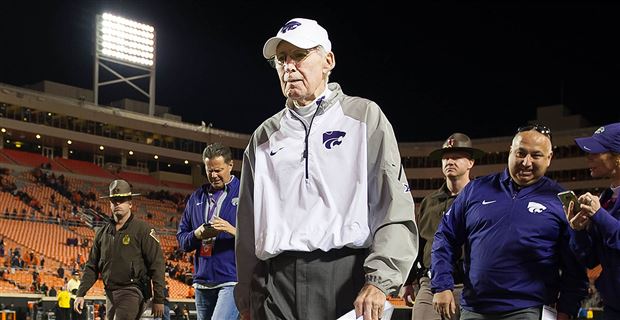 After the game, I know you were asked about the report about Coach Leavitt possibly being the coach-in-waiting for you guys, which would've been this year. You said you hadn't seen it yet. Have you now seen the report and what are your thoughts about that, and was it true that Coach Leavitt was offered a position with you guys last year, which he would've been coaching this year, and would've been the coach-in-waiting?
SNYDER: Well, we had a vacancy on our staff. I had offered Jim the opportunity to come. The rest of it, I think, is something I'm not totally aware of that probably the administration might be better served to answer that, but I appreciate Jim a great deal. He's always been a close friend. I would've loved to have had him here as a position coach but I didn't have a coordinator spot for him, so I couldn't offer him that.
SUBSCRIBE TO GOPOWERCAT'S FREE KANSAS STATE SPORTS NEWSLETTERS
I just wanted to ask you about Jake Waters, who's a GA at Iowa State now, and what you remember about your time together there and what he provided for the program and did you ever get the sense that he might want to get into coaching someday?
SNYDER: Well, Jake is a tremendous young person. I really enjoyed his time here and I hope he did as well. Jake as an athlete was a very talented athlete for us in all facets of the game. He brought a great deal of leadership into our program. It's very easy to see why coaching was of interest to him. He has a tremendous knowledge schematically from an offensive and defensive standpoint as well. He's very pleasant to be around. He interacts well with players. His future in athletics can be as prominent as he would like. I knew he had some interest in it. We weren't sure that was the direction he would go. He kind of made that decision a little bit later than we would've thought but I think it was because he had many other opportunities that a young talented guy could've done many, many things. Finally, coaching became the thing that he desired to do and I'm quite sure that he's doing a great job for Iowa State.
Obviously, it was an up and down game against Oklahoma State. What did you see from Skylar?
SNYDER: I thought he did quite well. He had one bad play in the ballgame, a few were a little iffy. You put the collective body of work together and he did extremely well. I was so pleased with him in so many ways. He played the game with poise, he managed the game quite well, he threw the ball well, ran well, did all of it. There are always some mistakes that you can find. For all he did, he did a nice job.
We're coming to the end of the year. Have you decided what your future is going to be after this year yet?
SNYDER: Well, like I've said so many times, when it is over, whenever that comes, I'll sit down and go through the same process I do every year and go from there.
What does Saturday's win do for your guys moving forward?
SNYDER: Well, I'd like to think the young people in our program would certainly appreciate the victory and realize there's still another game to play in the season and attempt, anyway, to approach this one as competitively as they did the last one. It's the old adage that the next one is the most important one you'll play and it's a pretty simple thought, but it has a lot of bearing in how you prepare. We'll meet this afternoon but that's one of the things we'll address that we played so well and for nearly three quarters of the ballgame and then played very poorly on both sides of the ball, but collectively I've already shared with him that we played well during that period of time that defined the outcome of the ballgame. Special teams had a great investment. Defense had a great investment. Offense had a great investment. We played well together, which is what we strived to do throughout the year and to be able to do it consistently and begin and end ballgames the same way, we haven't gotten to that point yet. Hopefully, they understand just in regard to our capacity to play a complete ballgame, it's still on the table, and hopefully we can define that this weekend.
Skylar Thompson got hurt there at the end of the game. He went back in. Can you give us an update on how he's doing? Any word on how bad was he to take those last couple snaps in Stillwater?
SNYDER: Well, I know he's doing fine. I haven't seen him yet today. We'll workout this afternoon and he should be able to do with us. He was in some pain when he was on the field for the last three snaps but he wasn't in jeopardy. We certainly wouldn't have done that, place him in jeopardy. I think he'll be fine.
Is he going to be your quarterback from here, a guy who can run and throw like that? He seems like a K-State quarterback.
SNYDER: Well, that's why he's here is because that's the feeling that we have about him that he's a young man that can execute all of the things that we do in our program from a knowledge standpoint and a leadership standpoint in being able to run it, throw it, and manage the ballgame, and he seems to do all of those quite well. I've been pleased with him.
Obviously, you've coached against some great quarterbacks and some great players. Where does Baker Mayfield rank among them?
SNYDER: Well, I don't know that I could go back over the years and put together a list. I just haven't thought about that. I think Baker is a very talented young man. He's a good leader in his program and obviously throws the ball around quite well. He can run when he has to. He seems to have a great control of the ballgame, the ability to make good decisions. Where that fits with quarterbacks that I've known through the years I really couldn't tell you but I'd suggest it's certainly up there.