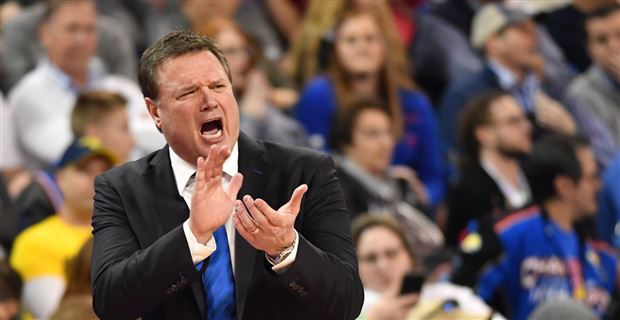 Kansas basketball has set itself up for what appears to be another strong recruiting class in 2019, but with few scholarships available — at least initially — the Jayhawk coaches have to demonstrate a bit of mind reading. And ESPN's Jeff Borzello wrote that Kansas' biggest need in the 2019 class was to find additional frontcourt help.
"As the roster stands, Kansas has only one scholarship for 2019, but that's likely to change. Quentin Grimes could be a one-and-done guard, while Dedric Lawson and Udoka Azubuike also could be gone after the coming season," Borzello wrote. "The Jayhawks have plenty of perimeter options, and they are in the mix for several guards -- but the more pressing need would be the frontcourt if Lawson and Azubuike both depart. Bill Self is in pursuit of several 2019 forwards, including five-star Matthew Hurt and top-30 prospect Jeremiah Robinson-Earl."

Borzello hit the nail on the head when looking at Kansas' top targets. The Jayhawks have Markese Jacobs committed as one of the class's top point guards. Jacobs is the No. 8 point guard and No. 91 overall player in the 247Sports Composite. The primary goal now is to add some post talent back into the pool. Not only could Dedric Lawson and Udoka Azubuike leave after this year, there's no guarantee on how long Silvio De Sousa could stick around, and Mitch Lightfoot will be a senior in 2019-20.
That's not say that Kansas is in trouble, as some of that is certainly worst-case scenario. It's just that the Jayhawks are highly motivated to add in some new blood down low, and in Hurt and Robinson-Earl, Kansas has two definitive targets. There are others — Kofi Cockburn, for instance — but the Jayhawks lead in the 247Sports Crystal Balls for both Hurt and Robinson-Earl, and they would have to be considered targets 1 and 1A.
Self coached both for Team USA's U18 team, and they started alongside each other, with the skilled Hurt, the No. 6 overall player in the 247Sports Composite, providing an ideal complement to Robinson-Earl's presence on the glass. Robinson-Earl, the No. 17 player in the 247Sports Composite, has ties to the Jayhawks through both his father, former Kansas player Lester Earl, and his mother.
And Kansas leads for both players, if their 247Sports Crystal Balls are to be believed. Kansas has 100 percent of the 247Sports Crystal Ball predictions for Robinson-Earl, though some expect that recruitment to come down to Kansas and North Carolina, where Roy Williams, Earl's former coach, resides.
Kansas has 75 percent of the predictions for Hurt, with Minnesota at 17 percent and the other 8 percent "cloudy."
Kansas has other targets, and the Jayhawks are pursuing some other guards, along with wings like Precious Achiuwa, Bryan Antoine, Cassius Stanley, Samuell Williamson and others. But the Jayhawks' biggest needs reside down low.