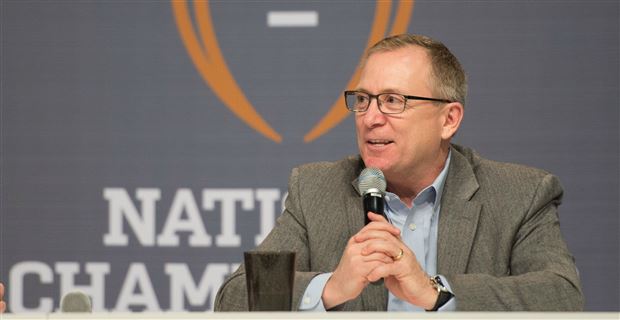 Among the more clear and direct statements made by new KU athletic director Jeff Long at his introductory press conference came when he was asked about the FBI investigation into college basketball.
With a question posed to a table that included Long, KU chancellor Douglas Girod and Drue Jennings, who led the AD search, Long answered first. The question was indeed asked to him, but it's worth noting Girod also appeared as though he was about to make a statement when Long interjected.
"I am going to say this first: I'm very confident that Kansas, we're going to work through this process and we're going to be just fine," Long said. "I think that was something I certainly considered as I decided to take the job. So, you know, I'm very confident that we're going to work through this."
That confidence isn't mirrored in pure speculation, but rather likely several conversations the new athletic director has had with Girod and KU coach Bill Self.
The soon-to-be 16th-year KU basketball coach noted that in his first conversation with Long, the new KU AD asked about the investigation.
"I'm actually glad you asked me, because how could anybody be serious about a job that wouldn't ask that question?" Self responded.
Self said he "went into as much detail as I could" with the situation, later adding Long should speak to the chancellor about the topic since he'd be able to paint a clearer picture.
As for Self's latest update on the status of KU, he again stated he hasn't received any information that would lead him to believe there would be any issues with regard to the eligibility of soon-to-be sophomore Silvio De Sousa, who joined the team at semester last year.
"Nobody at this stage has given us any information that would lead to believe that he could be in jeopardy that way," Self said. "But that's also without us not knowing [cq] all the information. Or do we know all the information? And if we know it, then I feel very, very comfortable. But the bottom line is that's something that's got to play out, and as much as I would like to say he's positively this or that, I can't do that. But I will tell you there has been no indication yet, at this time, that we will have a serious — a problem with that."
While that statement did contain some ambiguity, Self was asked directly by Phog.net if he'd feel comfortable putting De Sousa in a game if the season were starting and nothing had changed with his status.
"Absolutely. Absolutely. Yeah," Self said. "I don't know what's been said. You've got to understand something. Silvio was declared eligible. There was a process that the NCAA went through with Silvio to declare him eligible. … And so that stuff was all talked about, vetted, all that stuff. And so the NCAA is the one who declared him eligible, not Kansas. … I'm confident at this point in time."
As for a recent Yahoo Sports story that noted the University of Kansas tacitly acknowledged the existence of a FBI subpoena, Self said the story "wasn't news" and that it contained no new information.
"That has been something was part of our statement months ago and it's part of the statement still today. And I have been told this is still the statement, that we are not going to comment on anything potentially ongoing," Self said. "I really don't have a comment on it other than the fact that that's not new news, and I would be very surprised if in this situation that questions weren't asked of a lot of things that came out in those particular documents. It's not a surprise at all. It's something that we've known."