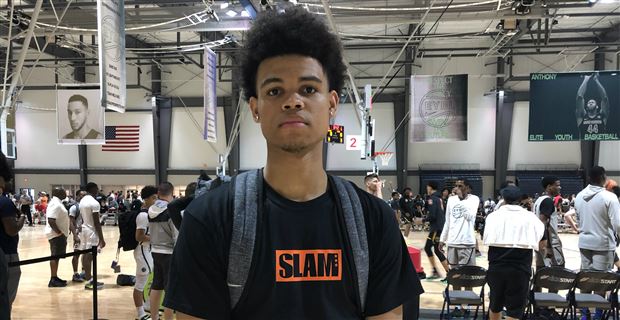 As Late Night in the Phog has grown as a spectacle, so too has the value of the day in terms of showcasing the KU basketball program to potential recruits. Take it from somebody who was there.
Malik Hall, the 54th ranked recruit in the 247Sports composite for the class of 2019, took a few visits to nearby schools last season — which included a trip to the University of Kansas. Hall, who plays for Sunrise Christian (Wichita-area), popped into Allen Fieldhouse for the 2017 Late Night. He left impressed, not just by the members of the team, but by an outside addition to the itinerary.
"It was super hype," Hall told 247Sports' Billy Embody. "Lil' Yachty was there, I was excited for that. Got to meet a couple people on the team and just see them play a little bit. It was nice."
Rappers aside, a big part of Hall's recruitment, he said, will come down to the programs he's hearing from the most. Right now, Hall noted fellow Big 12 school Oklahoma has made him a priority. The 6-foot-7, 190-pound wing also said he hears from Missouri and Texas A&M often, as well as schools like Oregon, Purdue and Iowa.
"And it just goes on," Hall said. "A lot of schools hit me up daily."
Among the schools staying in contact with Hall is KU, with assistant Kurtis Townsend leading up the charge for Hall's recruitment.
KU and Purdue had previously been seen as favorites of sorts for Hall, who has received offers from around 25 teams.
"He's a nice guy," Hall said of Townsend. "He'll send some highlights. He'll say he likes what I'm doing. After the first two sessions he said he liked my versatility and how I keep getting better every time I come out."
As far as improvement is concerned, Hall, a four-star recruit, may be as qualified as any to speak on the subject.
After the first EYBL session in Dallas, Hall picked up seven scholarship offers. Two of those came from Big 12 programs — Iowa State, TCU — while the rest of the list was made up by Villanova, Louisville, Minnesota, Notre Dame and Florida State.
Two sessions later — the third EYBL session wrapped up in Atlanta on Sunday — Hall felt like he was starting to get things figured out.
"I did pretty well when I started attacking early. When I kind of settled for shots, it took a little longer," Hall said of his weekend performance. "Eventually in every game I picked it up in the second half a little bit more. I think I showed a little bit of versatility, passing the ball, dribbling the ball up the court, starting the offense. I think all together it was a pretty good weekend."
Overall, Hall said the next stride he hopes to make with his game is with the effectiveness of his jumper, which he called "streaky."
Off the court, though, he'll have quite the decision to make. Hall said he plans on fielding interest from schools and even taking a couple of visits — perhaps one to Oregon in June, he suggested — coming up in the next couple months.
"After the summer, probably at the beginning of the school year, I'll start to cut a couple off," Hall said. "I'll probably sign late. I'm still in, like, the process of figuring out who really wants me super bad, and stuff like that."