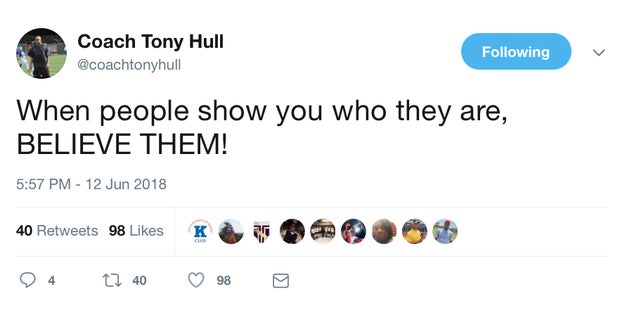 Tony Hull has experience on just about every side of recruiting.
The Louisiana-native has been successful as a recruiter for the KU football program, helping bring in players like four-star standouts Corione Harris and Pooka Williams. As a high-school coach, Hull helped his own players get recruited and he even helped other high schools tap into some of the local talent because of his kids-come-first mentality — something KU coach David Beaty praised him for at Big 12 football Media Day.
Because of all that, the KU running backs coach is among the most qualified in Lawrence to speak about the idea of social media and how it affects recruiting. After all, he doesn't just monitor what prospective recruits are saying — he's also had to drop kids because of the messages they were putting out.
"Oh without a doubt. I'm a firm believer in your social media profile shows me who you are," Hull said, asked about the topic by Phog.net. "When you catch little snippets from social media, a lot of coaches would take that and just run with it, say, 'Oh this kid is a bad kid.' Well, I don't do that. What that does for me is it puts me on alert. So when I do talk to the high school coach, when I do talk to the counselor, when I do talk to the teachers, I know what particular questions to ask. And if those responses match what I see on social media, then yes, we have dropped kids for that."
When Hull left NASA to become a high school coach — yes, he actually did that, if you weren't aware of his backstory — Twitter had not yet grown into the social media giant it is today.
Still, with several kids coming out of his high school, it was an emphasis of Hull and the staff at Warren Easton to make sure players were aware of how their public image could affect other aspects of their life.
"That was huge. You know, social media wasn't as big as it is now. It played a factor, yeah, social media was a part of it, but we were extremely cognizant and we were always monitoring our kids' social media pages and made sure that they didn't put something out that hurt them or affected them in recruiting," Hull said. "And we would educate them. We would bring people in to talk to them about it. We would have parents monitor it. I went as far as to monitor parents' social media pages and make sure that they didn't have anything inappropriate on there that could hurt a kid's chances at getting a scholarship."
True to form, Hull's focus with social media has really been on two areas: making sure potential recruits are representing themselves in the best way possible and helping them understand what things aren't necessarily appropriate to put out in the first place.
While he's never had a kid reach out for help after being dropped, Hull said he'd be more than happy to work with any player that were to do so to make sure they can protect their future. Really, he's already extended help when it wouldn't even benefit his current team.
"If that were to happen I would be more than happy to talk to the kid and work with the kid and work with him, whoever is around him, to help them understand the severity of a social media presence," Hull said. "Now, I have done this: Kids that we aren't really recruiting that their high school coach is a good friend of mine or someone I really respect, I've called up that head coach and been like, 'Hey man, you might want to check such-and-such's social media. Here's what's going on with them. You don't want another school to catch it and drop them.' So I've done that, hundreds and hundreds of time for coaches throughout the area."
Then there's one final aspect of recruiting that has led to some frustration for college football coaches and has become more of an issue in recent years.
Because all it really takes is a tweet and a few pictures for a player to quote-unquote report an offer, Hull and coaches across the country have seen more and more recruits report interest from schools that haven't actually reached out. (Nowadays, reporters are able to verify offers in order to keep the false information from spreading.)
"You know what? I had not experienced that until about the past year and a half," Hull said. "There's a kid right now who is an ESPN top 300 kid, and he has [at least] 20 offers reported. I've checked with guys on that list because we are one of them, and only 19 of them are true. So, it's frustrating because it taints the validity of the hard work of the other kids that truly get those offers and truly have gone about it the right way to get themselves on that level. So it's a little frustrating, but it's the age we live in."