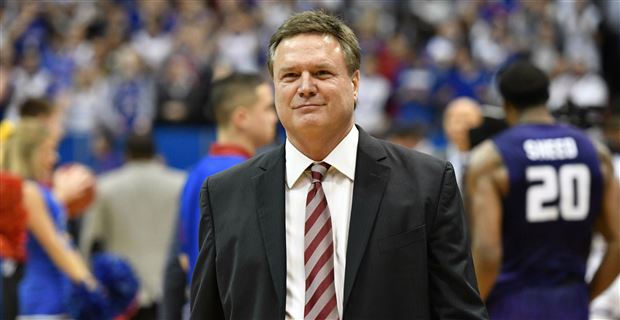 It was a busy weekend for more than a few KU targets at the third EYBL session in Atlanta. If you missed any of our coverage from the last few days, here are seven stories we wrote on the KU targets in attendance.
Class of 2019
(Free) How three KU big men are helping Jayhawks in chase for 5-star PF:
Vernon Carey, the No. 2 ranked recruit for the class of 2019, is plenty familiar with KU big men success stories. He mentioned three former Jayhawks to 247Sports' Billy Embody when asked about KU. He also left plenty of personnel salivating with some of his flashes of talent over the weekend.
* * * * *
(Free) KU target Malik Hall trying to discern 'who really wants me':
Four-star small forward Malik Hall was in attendance for Late Night in the Phog last season and he came away impressed — especially by one person in particular. Kurtis Townsend has been leading up the recruitment for the versatile wing, who said he hopes to work on his shooting consistency throughout the summer.
* * * * *
(Free) KU showing interest in family-oriented 4-star PG Kira Lewis:
Kira Lewis already has interest in making a visit to KU, hearing it's "one of the best places for basketball." In an interview with 247Sports, Lewis opened up about his family ties and the relationship he shares with his mother, Natasha, as well as how he plans to handle his own recruitment. Norm Roberts has taken up the lead for KU in Lewis' recruitment.
* * * * *
(VIP) KU basketball courting elite 2019 combo guard Jalen Lecque:
Five-star 2019 standout Jalen Lecque didn't have the best weekend in Atlanta, but he's using it all also motivation. Here is more about his transition to point guard duties, plus how Kansas might be the right situation for his type of player.
* * * * *
(VIP) Four-star guard Samuell Williamson on KU: 'One of my favorites':
Samuell Williamson, a 6-foot-7, 180-pound wing, is plenty familiar of how his versatility could be used within the KU offense. Primarily recruited by KU assistant Jerrance Howard — "a funny dude," noted Williamson — the four-star standout had plenty to say about KU.
* * * * *
(VIP) KU basketball making strides with 2019 4-star PG Tre Mann:
Tre Mann, a top-40 recruit for the class of 2019, gave a tentative top three schools in Atlanta, and he put KU on the list. Here's how Mann might fit into the KU backcourt and why he may not need to be a full-on point guard at the college level.
* * * * *
Class of 2020
(VIP) 5-star N'Faly Dante taking recruitment slowly, notes KU ties:
N'Faly Dante is a rebound-first big man in Kansas whose priorities align with what KU coach Bill Self has previously looked for in his big men. He also said he's cousins with a former Jayhawk, who, like Dante, is from Mali.