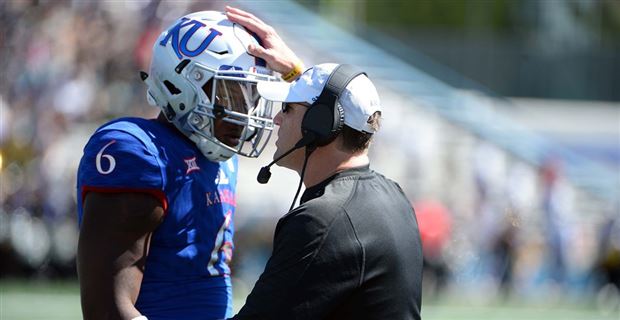 Jeff Long took the podium for the first time in Lawrence right around 11:15 a.m. Some six minutes later, he delivered a vote of confidence of sorts to KU football coach David Beaty and his program.
During his introductory remarks as the new KU athletic director — Long will officially take over the position on Aug. 1 — he paused to address the football program specifically.
"It's time to break the cycle. It's not going to be easy. We're going to need all of your help to do it," Long said. "Coach Beaty is our coach, and we all need to support this program, and we all need to support the young men who play the game."
Long expanded on his thoughts on the program, outlining several areas that he hopes to help grow.
First, the new KU athletic director noted, he'll work to put the Jayhawks at striking distance in terms of resources. He also noted he wants to look at new ways to raise money and increase revenue streams — across all sports.
"I just want to make sure we have the resources we currently have committed to the right areas with the football program to help it be successful," Long said.
Specifically speaking about the Raise the Chant fundraiser, Long maintained the plan is still to renovate the stadium. He did say, though, that he wanted to look over the plans for both the stadium and the fundraising before he could comment further on the campaign.
However, he wasn't as shy in expressing his goals for the football team.
Long said the first goal — not specifically for this season, but for the future — is to get to bowl-eligibility. Then he said he wants to keep winning and eventually achieve the lofty goal of a Big 12 championship.
Again, though, those hoping for a quick evaluation of the program — and subsequent change — need to reset their timetables.
"David and I have had a ton of phone conversations, really it's because he was headed off to his vacation," Long said. "This is really the first time I've been on campus since being hired, I haven't had a chance to have much conversation."
That in-person meeting will be coming soon enough, but it may not be before August 1.
Long noted he received a call from Beaty with regard to coming to his opening press conference. What Long told Beaty is what he told every coach who was either out recruiting or on vacation or anywhere else: Don't change your plans. You need time for you and your program. We'll see you when you get back.
"I wanted to thank coach Beaty," Long said. "He called and I insisted he remained with his family."
Still, Long was more than positive with his remarks to Beaty, which would seem to suggest he'll at least be giving the fourth-year KU coach a chance to save his job.
"I know he's a good person," Long said. "I know he works hard."