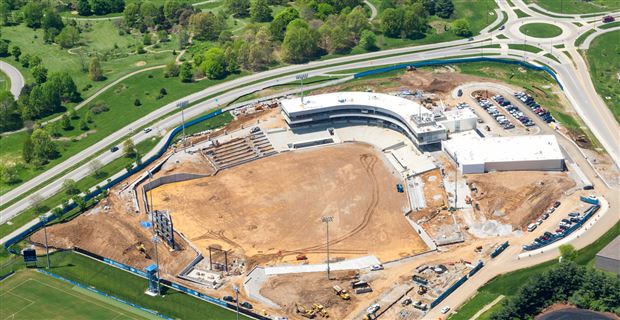 The University of Kentucky baseball program will spend the weekend celebrating the final regular season series at Cliff Hagan Stadium, but progress on the Wildcats' new home is ongoing.
The new $49 million stadium, located on Alumni Drive, is on schedule to be finished in fall 2018. Substantial completion, meaning there's a list of work left to be done but the building can be occupied, is scheduled for July with final completion set for August.
The goal is to have the coaches and staff moved into the new stadium by early fall semester, which begins on Aug. 22. UK executive associate athletic director Kevin Saal said the players will get their first look at the amenities in the stadium when they return in the fall.
"Our goal is to maximize the fall player-reveal," Saal said. "The locker room, the team room, the training/rehab room, the hitting and pitching cages down below, that way when the students come back they will be viewing these spaces for the first time. We've seen MLB franchises, collegiate peers and even within our department (with the opening of Kroger Field and the Joe Craft Football Training Facility), conduct similar reveals. We want to include in one way or another, all those who have made this facility possible. From the players, coaches and staff who's sacrifice and hard work have paved the way for present day successes, to the support of our administration, trustees and donors who have entrusted to us the resources to make it possible…we want to make sure our players understand how we've arrived at this point, and acknowledge all those who have made it possible."
"As Mitch Barnhart mentioned in the ground-breaking ceremony, we've been working towards a new baseball stadium for a number of years now and we've arrived at the best location and design. We'll enjoy an evening of ushering the players through the space. We want them to see it and we want to maintain the integrity of that experience for our guys."
Several of the architects and contractors working on the baseball stadium have been involved in other projects for UK's athletic facilities. RossTarrant Architects, HNTB and contracting company Congleton-Hacker each worked on UK's football training facility.
The view from the Club area of our new stadium. Getting goose bumps as it gets closer and closer to a finished product! #WeAreUK pic.twitter.com/aBRrDu99OL

— Kentucky Baseball (@UKBaseball) April 26, 2018
"There's a synergy there because those guys have done some of our other facilities as well," Saal said. "The advantage with waiting 10, 12 years on a baseball stadium, we know what we want. They've also built Kroger Field, Football Training Center, so the language we've created over the last five years in building these unbelievable facilities that Mitch and Dr. Capilouto worked so hard for us to get, is it's easier. We can say 'hey, we want that one to look more like the same function over at the football training center.' Or 'hey, that needs to look like the deal over at Kroger Field.' They've got the drawings and it works. It's efficient."
The new stadium will feature 2,500 permanent chair-back seats with terraced berms located down the left and right field baselines, placing the capacity near 4,500. In the event UK hosts postseason play, additional seating can be added to the outfield to increase capacity to more than 7,000.
"Every time I've gone to another park, I've got lists," Saal said. "Our staff that have been here for a number of years and have left to go to other institutions, we've compiled information for a good 10 years. That facility, we've said from the outset, it doesn't need to be as big as our other peers. That reflects in the seating capacities. The amenities for fans, and in particular our players, need to be the most 'wow.' And I can tell you definitively, I've been to every single (SEC) ballpark, the player amenities in that space will be the most 'wow' to date in our league. We're really excited about that piece."
———————————————
Follow The Cats' Pause beat writer Derek Terry on Twitter. Contact him by email at derekterry@catspause.com.