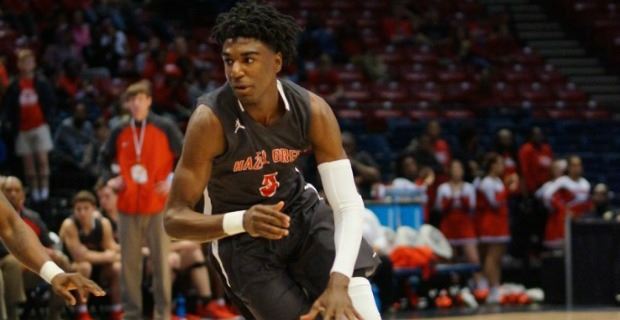 Hazel Green (Ala.) 5-star point guard Kira Lewis made the four-hour drive up to Lexington for an unofficial visit to Kentucky Sunday.
UK assistant Kenny Payne took Lewis and his parents on a four-hour tour of the campus Sunday afternoon, his first unofficial visit this summer.
"They showed me everything: the dorms, athletic rooms, weight room practice facility, Rupp Arena," Lewis told CatsPause.com Monday. "Great facilities, great campus and I've built a great relationship with the coaches."
It wasn't Lewis' first trip to Lexington, however. Lewis attended a UK basketball camp when he was in middle school but says his experience was much different this time around as a recruit.
"It was different because when I went they didn't have the stuff they have now so just seeing the new facilities and going there as a recruit was different all around," Lewis said. "It was a great. Not everybody gets to visit Kentucky. It's a basketball school. They love their basketball and you see the legacy of all the players the've had there."
Lewis also got to check out Rupp Arena for the first time.
"It was amazing," Lewis said. "Being on the court, you could see how big it is and just imagine what it's like when everyone is in there."
The 6-foot-3 lightning bolt of a point guard has struck onto the national scene with his play this spring, averaging 21.3 points, 2.5 rebounds, 3.2 assists and 2.5 steals per game for the Georgia Stars through the first three stops on the Nike EYBL 17U travel circuit, which has vaulted him into the top-25 of the updated Top247 rankings for 2019.
Lewis is regarded as one of the fastest end to end players in the country.
"They just like the way I play," Lewis said. "I play fast, I can score and share the ball and I'm tall and long like a lot of the other guards they've had."
The Wildcats already have commitments from 2019 5-star guards Ashton Hagans and Tyrese Maxey. Hagans is expected to reclassify and enroll at Kentucky this summer, which could create an opportunity for Lewis in Lexington.
"We talked about it," Lewis said of Hagans' situation. "They said he's finishing up his classes and he's supposed to enroll."
While he didn't leave Lexington with a scholarship offer, John Calipari sees a fit with Lewis potentially playing alongside Maxey in the Kentucky backcourt.
"Coach Cal said he can see me and Tyrese playing together. We're both fast, can score, can shoot the ball and play defense," Lewis said. "He said he's going to keep a real good eye on me in July."
Calipari was among the coaches in attendance in Colorado Springs at the USA under-18 trials, where Lewis was one of 33 prospects that competed for 12 roster spots.
"He said I played good when he saw me," Lewis said. "They just want to see me more before they offer."
Lewis (6-3, 160), who is ranked No. 24 overall and the No. 4 point guard in the 2019 class by 247Sports, holds early offers from Alabama, Auburn, Baylor, Clemson, UConn, Georgia, Georgia Tech, Indiana, Iowa State, Kansas, Louisville, LSU, Oklahoma State, Oregon and Tennessee among others.
He will attend the NBA Top 100 Camp in Charlottesville, Va. this week.