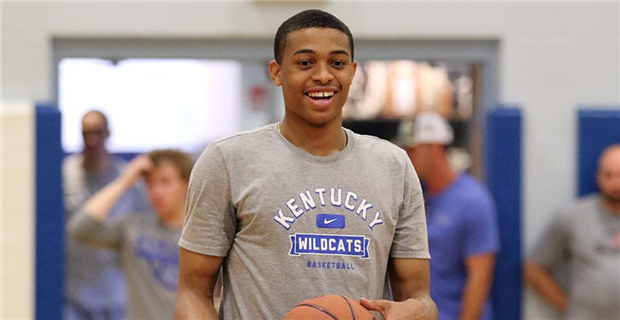 The major storylines this Kentucky basketball offseason have centered around the summer additions of early enrollee Ashton Hagans and Stanford graduate transfer Reid Travis, who have catapulted the Cats into legitimate national championship contenders next season.
But John Calipari also signed the nation's No. 2 recruiting class, which in total, includes five of the top-40 prospects in the 2018 class.
During an appearance on Kentucky Sports Radio Wednesday, Calipari says one newcomer has stood out above the rest: Oak Hill Academy (Va.) 5-star wing Keldon Johnson.
"Keldon has been, wow," Calipari said. "I knew he'd be good but I didn't realize he has a chance of being this good."
Calipari spoke to Johnson's versatility and physical nature at 6-foot-6, 216 pounds.
"Right now, if you ask me the most consistent shooter we've had it's been Keldon. He's been the most consistent," Calipari said. "His size, I had to put him against Reid yesterday because we're down a big guy and he did not back down. They were physically going at each other. And you know what else? I'm playing him at point guard some because he can really get in the lane and he sees people. He's pretty special."
A McDonald's All-American who was also named to the Jordan Brand Classic and Nike Hoop Summit, Johnson finished the 2018 recruiting cycle ranked No. 13 overall by the industry average 247Sports Composite.
Johnson has been named a Second Team All-American by USA Today Sports after averaging 20.5 points, 6.3 rebounds, 3.2 assists and 2.2 steals per game in helping lead Oak Hill Academy to a 44-2 record. Named MVP at the National Hoopfest Series, Les Schwab Invitational and Chick-fil-A Classic, Johnson chose the Wildcats over Maryland, Texas, N.C. State and Florida State.
247Sports' Jerry Meyer says Johnson brings a lot to the table in addition to putting the ball in the basket.
"He's very competitive, and he loves to do the things other than dribbling and shooting," Meyer said. "He relishes rebounding, relishes defending and plays a very aggressive, attacking offensive game. At the same time, he's someone who can knock down shots. I think he'll turn into a good spot-up shooter, and he certainly has the physical dimensions of an NBA wing man."
Currently, Johnson is Kentucky's highest-ranked NBA prospect and was projected as the No. 13 overall pick in the 2019 NBA Draft in Jonathan Givony of ESPN's mock draft released last month.
In fact, Calipari says he's been impressed by all of the Wildcats' newcomers, in part because of their physicality.
"Here's what I would tell you. The young kids are better than I thought," Calipari said. "They have a chance and they work so hard. They're way tougher. The guys that watched us practice said this is more like one of your teams that can physically go after people. We haven't been able to do that for a while. We've had young, long talented guys but it took them while physically. That won't be an issue this year."