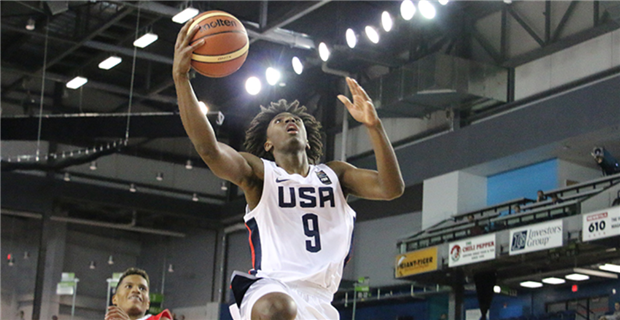 Kentucky coaches John Calipari and assistant Tony Barbee are in St. Catherines, Ontario, Canada watching the USA under-18 team compete at the FIBA Americas Championship.
The UK coaches witnessed a beatdown of epic proportions as the United States steamrolled Panama 118-26 in Group A pool play Monday night. The USA opened the game on an unbelievable 45-0 run over the first 10:35. Panama didn't score its first basket until the 7:57 mark of the second quarter and trailed 70-8 halftime at halftime.
Panama was completely outclassed, making just 9 of 73 shots (12.3 percent) for the game and 2 of 28 three-pointers (7.1 percent), committing 27 turnovers and being out rebounded 63-37.
The USA dished out 38 assists on 47 field goals, outscored Panama 70-10 in the paint, scored 32 points off turnovers, outscored Panama 22-4 on second-chance points, 49-2 in transition points and 69-15 in points off the bench.
All 12 USA team members scored at least four points with five reaching double figures, led by Armando Bacot's 17 points. Cole Anthony added 14 points while Kentucky commit Tyrese Maxey, Illinois signee Ayo Dosunmu and Trayce Jackson-Davis each scored 12 points.
Through two games, Maxey is averaging 14 points on 55 percent shooting, 3.5 rebounds, 3.0 assists and 3.0 steals in just 23.5 minutes per game. He's also made 4 of 12 three-pointers (33 percent) and his six steals are a team-high.
"We were just trying to go out there and get better, honestly," said Maxey. "We were trying to work on our stuff. We'll see some real competition tomorrow. We have Puerto Rico and they're 2-0 as well, and we're trying to win this pool."
Maxey (6-3, 185), who is ranked No. 13 overall in the 2019 class by the 247Sports Composite, committed to the Wildcats on May 9 over Michigan, Michigan State, Oklahoma State and Texas.
Kentucky is also actively recruiting USA's Anthony as well as power forward Matthew Hurt and Josiah James.
Out of Archbishop Molloy in New York, Anthony (6-2, 175) is ranked No. 4 overall and the top combo guard in the 2019 class.
Hurt (6-9, 200), a native of Rochester, Minnesota, is ranked No. 5 overall and the No. 2 power forward in the country. He scored a scholarship offer from Kentucky in December and hosted Calipari for an in-home visit during the recruiting period in April.
James (6-6, 195) is ranked 14th overall and the No. 2 point guard in the 2019 class by the 247Sports Composite.
Calipari and Barbee were also joined in Canada by Michigan's John Beilein, Purdue's Matt Painter and Indiana's Archie Miller.
The USA U18 Men's National Team concludes preliminary round play versus also-unbeaten Puerto Rico (2-0) to determine which nation will claim Group A's top seed for the quarterfinals. Puerto Rico defeated Dominican Republic (1-1) 108-94 Monday.
Following the preliminary round, teams will be seeded within each group, and all eight teams advance to the June 14 quarterfinal games. The semifinals will be played June 15, and the finals on June 16. The top four finishing teams will qualify for the 2019 FIBA U19 World Cup.