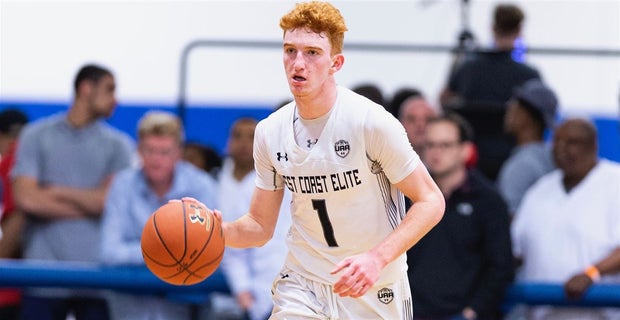 When Phoenix (Ariz.) Pinnacle 5-star point guard Nico Mannion cut his list to 10 back in June, Kentucky was nowhere to be found.
But after announcing he would reclassify from 2020 to 2019 in July, Wildcats head coach John Calipari reached out nonetheless.
"Nico has talked to him," West Coast Elite coach Justin Downer told CatsPause.com. "They love him. Calipari said he's as competitive and as good of a leader as he's seen."
Mannion (6-3, 180), who is now ranked as the top point guard and No. 11 overall prospect in the 2019 class by 247Sports, averaged 16.8 points, 3.7 rebounds, 6.5 assists and 1.5 steals per game for West Coast Elite on the Under Armour circuit this travel season.
Calipari was courtside for several games during the July evaluation periods.
"I don't know if he's the best point guard in the last 5-10 years in terms of talent but he's the best in terms of being a point guard," Downer said. "In terms of setting up his teammates and making his teammates better, I haven't seen a better one in the last 5-10 years. He's extremely valuable."
Kentucky already has a commitment from 5-star combo guard Tyrese Maxey but that wouldn't be a problem for Mannion, Downer says.
"Anybody that Nico plays with, it's going to be seamless. He's shown that he can play off the ball. He's not worried about scoring but he can score. At any level, great teams have two elite guards and sometimes two elite point guards. It would be effortless in my opinion."
Currently, Mannion's top 10 consists of Arizona, Duke, Kansas, Marquette, Oregon, UCLA, USC, Utah, Vanderbilt and Villanova but Kentucky, along with North Carolina, have come calling recently and could shake things up when it comes time to make the next cut.
"The ball's in their court," Downer said. "He'll see what happens before he cuts list and go from there."
Downer says after expediting the recruiting process by making the leap to 2019, Mannion will likely take his time from here on out, something that could play in Kentucky's favor.
"I'm not going to say he won't sign early but I don't think that's the plan, especially after reclassifying," Downer said. "He's going to take his visits. He wants to see how these teams are playing. He's such a cerebral player. He's not in a rush at all at this point."
For the time being, Arizona is the unanimous favorite according to his 247Sports Crystal Ball, representing all 13 predictions but Downer says that may be a bit premature.
"Arizona believed in him early. and they've obviously had success at the highest level. They're one of the most successful programs on the west coast and being in his backyard helps. Coach [Mark] Phelps and Coach [Sean] Miller have been so honest and up front but anybody that has a Crystal Ball prediction may be jumping the gun a bit."