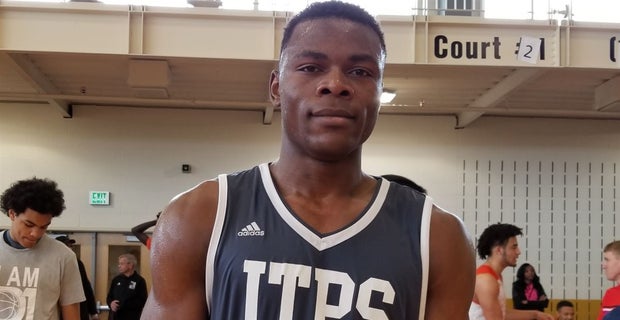 To this point, Kentucky has focused its recruiting efforts on top-five 2019 frontcourt targets James Wiseman, Vernon Carey and Matthew Hurt.
But with none of the three considered a slam dunk to choose the Wildcats, head coach John Calipari has begun to explore secondary options and one of those is Hermitage (Pa.) Kennedy Catholic 4-star center Oscar Tshiebwe.
Playing for ITPS Wildcats on the Adidas Gauntlet travel circuit, Tshiebwe had an outstanding July, averaging 22.6 points and 11.6 rebounds in being named to 247Sports' All-July Team but it was one game in particular that caught everyone's attention, including that of Calipari and the Wildcats.
Going head-to-head vs. Wiseman at the Adidas Summer Championships in Los Angeles, Tshiebwe posted 24 points and 13 rebounds in a dominant showing vs. the nation's No. 1 overall prospect in a 77-61 win over Hoop City.
"He had a really good game vs. Hoop City and James Wiseman and it sparked Coach Cal's interest," ITPS Wildcats coach Tom Droney told CatsPause.com.
Calipari watched Tshiebwe at a high school game in Pennsylvania back in December and here and there during the spring recruiting period. Kentucky assistant Joel Justus had been handling Tshiebwe's recruitment but Droney says Calipari has come on strong.
"Coach Cal has been very hands-on with Oscar in recent weeks," Droney said. "They're extremely interested. They want to find a way to get him on campus for a visit and that's been discussed. Obviously, they're recruiting James Wiseman and Vernon Carey so there's something to be said for that but if they get him on campus there's potential for a scholarship."
A chiseled 6-foot-9, 230 pounds, Tshiebwe is a physical force of nature on the court but the one attribute that stands out above all else is his motor.
"He's one of the hardest playing kids I've ever been around. His motor is endless," Droney said. "He loves to be in the gym. You have to take him physically out of the gym. How he practices is how he plays. He goes non-stop."
Originally from the Congo, Tshiebwe was a soccer player growing up until he was convinced to give basketball a go. He was discovered at a camp hosted by NBA player Bismack Biyombo and moved to the United States in 2015.
Having only played basketball for about four years, Tshiebwe's skill level continues to catch up to his effort level but Droney says Tshiebwe's physical make-up and playing style will allow him to contribute at the college level from day one.
"[Kentucky] sees what everyone else sees. How hard he plays, how physical. He's a sure thing," Droney said. "From the moment he steps foot on campus, he's going to be able to contribute."
On July 31, Tshiebwe named a top eight of Baylor, Georgetown, Illinois, Kansas, Kentucky, Ole Miss, Virginia and West Virginia. The Mountaineers currently represent all 10 predictions on Tshiebwe's 247Sports Crystal Ball.
"That was his first offer," Droney said. "He's been to that campus on numerous occasions and they've done a good job recruiting him."
Droney says Tshiebwe will likely cut his list in half, set up his official visits and sign in the fall.
"He may cut it down to four or five schools. He wants to take some visits and sign before the high school season starts," Droney said. "He wants to keep improving. His goals and aspirations are at the highest level. He's just focused on finding the right place, coming in and making an immediate impact right away and showing he's an NBA caliber player."
Currently, Tshiebwe is ranked 73rd overall in the 2019 class by 247Sports but Evan Daniels says he's due for a huge bump in the next update.
"You could make a case that Oscar Tshiebwe had as good of a summer as anyone," Daniels wrote recently. "At the adidas Summer Championships, Tshiebwe was dominant. His motor ran non-stop and he impacted the game with his activity level, physical play and rebounding. Tshiebwe consistently ran the court, dunked everything in the paint and was an enforcer around the basket. Expect a big rise when rankings are updated."