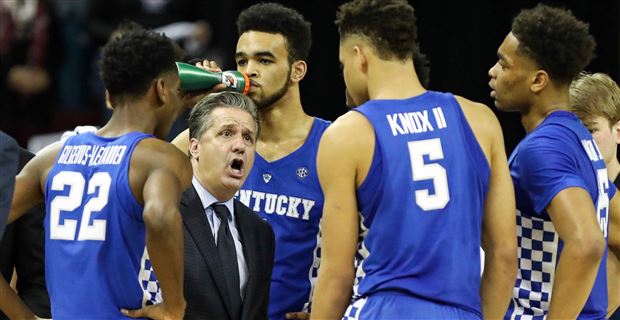 In addition to being a basketball state, Kentucky is also a horse racing state. And Wednesday, the elites from both sides met up as the Kentucky basketball team went out and met Justify, recent winner of the 2018 Triple Crown.
Justify won Belmont Stakes over the weekend, the final stage of the famed three race days that include the Kentucky Derby and Preakness Stakes. And after victories in the first two, he took to the track with the hopes of becoming the 13th-ever Triple Crown winner and the first since American Pharoah in 2015.
That's precisely what he did, finishing 1 3/4 lengths past Gronkowski.
Hoping a little bit of greatness rubs off on us today. Meeting the 2018 Triple Crown winner, Justify. pic.twitter.com/ovsauedg1N

— Kentucky Basketball (@KentuckyMBB) June 13, 2018
Certainly, Kentucky coach John Calipari can relate to Justify's status as a late bloomer. So often, the young Wildcats struggle — or struggle more than people thought they would — early on in the season, only to round into form and become a championship contender in March. That formula has led to four Final Fours and the 2012 NCAA Championship.
Justify ran just three races — the first on Feb. 18, and all of them as a three-year-old — to qualify to run in the Kentucky Derby, then won the three races that make up the Triple Crown. To put that into perspective, American Pharoah ran five races before the Triple Crown, even finishing fifth out of a field of 10 on his maiden race and racing three times as a two-year old.
But that relative inexperience didn't hurt Justify, with the precocious colt becoming just the second horse to win the Triple Crown while still undefeated.
Afterward, the announcers called Justify, "Immortal," with trainer Bob Baffert becoming just the second trainer to train two Triple Crown winners. Baffert also trained American Pharoah.
"It's just amazing," Baffert said. "I'm so proud to be an American and feel this way. … It never gets old. American Pharoah, he'll always be my first love. For this horse to do it, for [jockey] Mike Smith, he deserves something like this."
"We're all so blessed we made it back safe," Smith said. "This horse ran a tremendous race. He's so gifted. He's sent from Heaven. I'll tell you, he's just amazing. I can't describe the emotion that's going through my body right now."
Baffert went on to compare his two Triple Crown champions.
"He was showing me the same signs, the brilliance, a superior horse," Baffert said. "He could have won every race on the undercard today. He's just that kind of horse. … It feels pretty good."
The Kentucky Wildcats should soak up some of that feeling, because the Wildcats have a chance to feel 'pretty good' on the last day of the 2018-19 college basketball season. With returning talent like Quade Green, PJ Washington and Nick Richards, among others, and the addition of the No. 2 recruiting class in the 247Sports Composite, Kentucky could have its best team since the 2014-15 squad that won its first 38 games before falling in the Final Four.
This year's team isn't likely to go undefeated — the Wildcats have a monster schedule — but here's guessing they'd trade it to win their version of the Belmont.