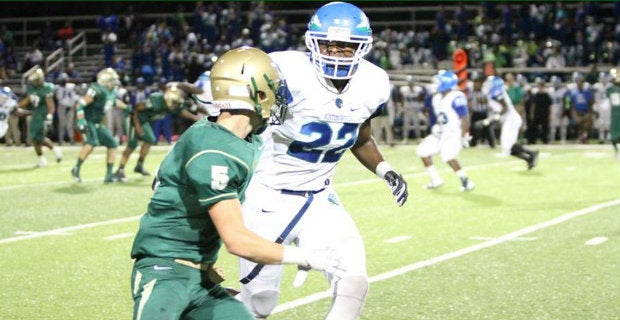 Chris Oats was Kentucky's biggest signing day victory in 2018. The Cincinnati native described Ohio State as his dream school during the recruiting process, and even after being told he'd be a take for the Buckeyes, Oats decided to sign with the Wildcats.
He enrolled in Lexington this summer and could be an instant contributor this fall. In an exclusive interview with The Cats' Pause in June, Kentucky head coach Mark Stoops said Oats will start at inside linebacker. Stoops has high expectations for the freshman.
"Mike or will to us is interchangeable for the most part," Stoops said. "We'll start him inside. I love him being an inside linebacker because he has unbelievable length and he'll have great size. He's going to be a monster when it's all said and done. He's already 235 pounds. He's going to be a big guy. If we can get that kind of size inside with the way he moves, that will be good."
Vince Marrow, the tight ends coach and recruiting coordinator for the Wildcats, recruited Oats since he was a freshman in high school. In February, Marrow said beating out Ohio State for Oats "sends volumes" for other recruits.
"I recruited Chris since he was a freshman," Marrow said. "That juggernaut up there at Ohio State, they do great there. Urban (Meyer) recruits very well. This truly was – I think there was times they came in on guys late that's here now, but this was truly a kid that they targeted since he was a sophomore."
Oats' role could be significant early on. Kentucky lost inside linebacker Eli Brown to transfer during the offseason. Brown started seven games in 2017 while filling in for injured backer Jordan Jones. Jones missed time during spring practice after having shoulder surgery. Stoops said Jones is on track to return for fall camp, which begins Friday.
Kash Daniel is likely to replace Courtney Love as the starting linebacker at 'mike' but there's limited depth at both the mike and will positions. Kentucky will not release a depth chart until Aug. 27, but there's not much proven depth at the inside linebacker positions. Oats is likely to compete with redshirt freshmen Jamin Davis and Alex King for playing time this fall.
"Chris is a legit 6-5, 6-4," Marrow said on National Signing Day. "He's very twitchy, can bend. He's going to play inside, and he can play mike or will, but he's so long you can even put him on the outside as a pass rusher because he can run. I know right now (Matt) House is very excited about him playing either backer inside."
——————————————
Follow The Cats' Pause beat writer Derek Terry on Twitter. Contact him by email at derekterry@catspause.com.