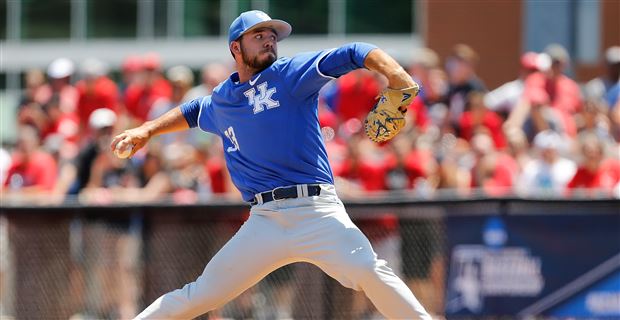 Kentucky right-handed pitcher Chris Machamer is expected to sign with the Boston Red Sox on Monday, a source confirmed to Catspause.com. The Red Sox selected Machamer in the 16th round of the MLB Draft in June.
The North Canton, Ohio native finishes his Kentucky career with 47 appearances, a 4-1 record and 11 saves. Opponents hit .191 against him. Machamer appeared in 23 games in 2018. He finished with a 2-1 record and recorded 10 saves. Though he was just a true sophomore, Machamer met the age requirement to be selected in the draft. He'll join former Kentucky catcher Kole Cottam (4th round pick) in the Red Sox organization.
Machamer's signing is a blow to the Wildcats' pitching staff. He would have been the top returning reliever on Kentucky's roster, but it's likely Machamer would have been given a chance to start on the weekends. That move could have potentially improved his value to major league clubs, and could have lessened the blow of losing Sean Hjelle and Justin Lewis from the weekend rotation. Machamer started two games for the Brewster (Mass.) Whitecaps in the Cape Cod League. He had a 1.12 earned run average in those starts.
Left-handed pitcher Zack Thompson returns as a junior next season and will be the ace of the staff. MLB.com projected Thompson as the No. 7 overall pick in the 2019 MLB Draft. However, there's uncertainty past him. Freshmen right-handers Ben Jordan and Brad Dobzanski redshirted in 2018 while recovering from Tommy John surgery. Both pitchers were considered elite prospects out of high school. Daniel Harper started 11 games as a freshman and compiled a 5.51 ERA with a 3-2 record and 42 strikeouts and 19 walks.
Pitchers Braxton Cottongame, Will Gambino and Cole Ayers were selected late in the MLB draft. It's likely each of those pitchers will have a role in some fashion this upcoming season.
Kentucky produced a school record 13 selections in the 2018 MLB Draft. Only three of the players selected with eligibility remaining were thought to have difficult decisions. Shortstop Trey Dawson, outfielder Ben Aklinski and Machamer were potential returnees. However, each of them will have signed come Monday. Left-handed pitcher Andrew Miller, a transfer from Maryland who sat out the 2018 season, was selected in the 40th round by the Miami Marlins. He will return to school next season.
KENTUCKY'S 2018 RECRUITING CLASS
High school commits
C Orlando Adams, Atlanta, GA
RHP Cole Ayers, Cincinnati, OH (36th round, Astros)
RHP Tyler Burchett, Airville, PA
LHP Braxton Cottongame, Hazard, KY (40th round, Indians)
LHP Cole Daniels, Saline, MI
RHP Alex Degen Lebanon, NJ
OF Rook Ellington, Paducah, KY
RHP Will Gambino, Haddonfield, NJ (35th round, Mariners)
1B/3B Trae Harmon, Somerset, KY
C Brendan Hord, Lexington, KY
RHP Brendan Koester, Louisville, KY
LHP Dillon Marsh, Elizabethtown, PA
RHP Kyle Music, Cincinnati, OH
RHP Kennedy Norton, Ball Ground, GA
OF/1B Justin Olson, Colorado Springs, CO
RHP Hunter Rigsby, Mount Vernon, KY
IF Austin Schultz, Adams, NE
RHP Brandon Sulzer, Smithville, MO
Junior college commitments
IF Elliott Curtis
IF/OF Breydon Daniel
C Tanner Holen
IF Hagen Holmstead
1B Dalton Reed
OF Jaren Shelby
———————————————
Follow The Cats' Pause beat writer Derek Terry on Twitter. Contact him by email at derekterry@catspause.com.