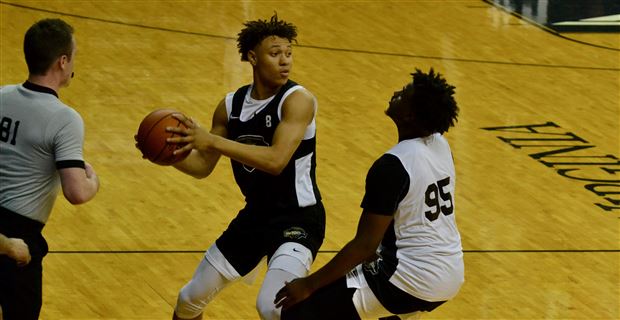 University of Louisville basketball commitment Josh Nickelberry is busy this summer.
The 6-foot-4 shooting guard from Fayetteville, N.C., has been working on his game and is preparing for some big events this month with his Game Elite Gold AAU team on the Adidas Gauntlet summer circuit.
Oh, and he's been doing a lot of recruiting.
Nickelberry told Cardinal Authority that he's been in the ears of some top targets and will remain actively helping the Louisville coaching staff try to lure other top players to join him in the Class of 2019.
"I've got too," Nickelberry said. "I'm doing some recruiting and trying to get some guys to come out there with me and play.
"I want to win championships, so we need the best players we can get."
Aidan Igiehon, one of the top players left on the recruiting board for the Cardinals, said he's been "hearing a lot" from Nickelberry, while North Carolina forward Jaelyn Withers confirmed at the NBA Top 100 camp that Nickelberry had "been in my ear about Louisville."
Nickelberry will be playing on the Adidas circuit this month with teammate Jaylin Williams and that's also where Trinity guard David Johnson will be playing this month with Team Manimal. He said there are a few others that he's been reading out too.
"I just tell them how great coach Mack is," Nickelberry said. "Why don't they come and join me?"
Nickelberry, the first high school commitment of the Chris Mack-era at U of L, made a visit in late May to campus and committed on May 31. He had over 40 scholarship offers and picked the Cardinals over a group of schools that included Virginia Tech, North Carolina, Florida, Florida State, Georgia, Georgia Tech, Auburn and Missouri.
In a recent interview with Cardinal Authority, Nickelberry said he's also heard from CardNation as he's received a ton of messages on social media from the U of L fans. He's been an added star with the fans because he's helping the staff recruit other Class of 2019 prospects.
And he said he feels like the fans are: "Ready for me to get there and bring Louisville's team back to what it used to be. The winning brand of basketball the fans are used to seeing from Louisville."
Nickelberry, considered one of the best shooters in the Class of 2019, averaged 24 points, seven rebounds and six assists as a junior at Northwood Temple Academy last season.
The U of L coaches will be on the road starting on Wednesday at events all across the country. The adidas event this week is in New York City with Nickelberry's team not playing a game until Friday morning at 10:30 a.m. They would play again on Friday afternoon and on Saturday.