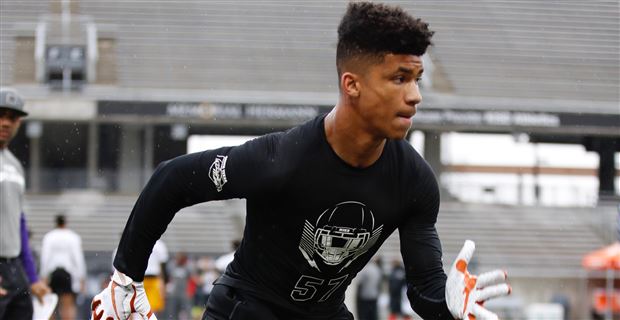 Texas cornerback Marcus Banks decided to follow his heart.
The Dekaney High (Houston) product could have played college football anywhere in the country. With an offer list well into the double-digits, he had his choice of the Who's Who in college football.
The in-state schools like Texas and Texas A&M had offered him a scholarship. The same went for Southeastern Conference programs like Alabama, Georgia, Auburn and Florida. Oklahoma, Ohio State, Notre Dame and others had scholarship offers out, too.
But no offer stood out as much as LSU.
On Sunday morning, surrounded by family and the LSU staff after his three-day official visit, Banks delivered the news that he was committing to the Tigers.
For his mother, it was a moment - and a decision - she won't soon forget.
In March, Leah Banks-Meeks' husband, Bobby Meeks, passed away after complications from surgery.
Growing up, the Aldine, Texas native was a standout athlete who caught the eye of college football coaches across the country. So it came as no surprise that his son, Marcus, grew up to become one of the best football prospects in the Lone Star State.
Meeks played college football at Florida State from 2000-2004, where he started in 20 games as an offensive lineman for the Seminoles and was part of three ACC championship teams.
"He had an infectious laugh," former FSU safety Kybler Hall told The Daily Nole in March. "Meeks was a guy who didn't care what position you played or where you came from, he was always happy to talk to you. People who hadn't seen him in a long time still had a lot of great things to say about him."
While his sudden passing weighed heavy on family and friends, Sunday morning represented another chapter for Meeks' story.
18 years after Meeks began his college career in Tallahassee, his son will now begin his own path at the collegiate level - this time as a defensive back (nicknamed "Speedy" by friends and family) suited up in purple-and-gold.
"This is an amazing day," Banks-Meeks said. "Speedy had been leaning towards LSU. He wanted to commit (this spring), but at that point we hadn't done any official visits. I told him to be patient and make sure this is what you want. He said 'Mom, I know this is where I need to be. God spoke to me and told me I need to be there.'
"It was just a relief. Now we can focus on his senior season knowing exactly where he's going. LSU is the only school my husband went to a game at. He played ball at Florida State, and LSU was the only school besides FSU that my husband had seen. I know he is smiling down and is proud of his son.
"We are just ecstatic. We are blessed. We are in a really good situation for him to be able to go to LSU and have that scholarship offer. That was big for us. That was the only school that when he got offered, it brought tears to my eyes."
What led Banks-Meeks and her son to Baton Rouge?
In short, family. Banks-Meeks has relatives living throughout Louisiana. Couple that with the feeling they picked up from the LSU staff this offseason and it's no surprise the Tigers were the team still standing when Banks made his college commitment.
"This weekend, it was a wonderful time just being back at home and being at LSU," Banks-Meeks said. "We have a lot of family ties there. All of my father's family are from Louisiana, and they are still there. This commitment and him being at LSU, it's just an amazing time for our family. We are all extremely excited."
After spending three days with the staff this weekend in Baton Rouge, Banks-Meeks didn't hesitate when her son said he was ready to shut things down and be a Tiger.
"They are some of the realest people I have ever been around," she said. "From the people who set up the visit and booked our flights to the coaches. Everything was done in order and organized. I really enjoyed the staff and the time they spent with us. We couldn't have asked for a better visit.
"It was a no brainer for us. They really showed him a lot with the communication side of journalism, which is what he wants to study. They made sure they covered every single question or concern we had.
"We didn't leave having any unanswered questions."
Banks-Meeks also circled the coaching staff's efforts as critical selling points for LSU, a program that jumped into the Top 10 of the 247Sports Team Rankings with the commitment.
"The coaches at LSU just stood out," she said. "One thing that really stuck out was (LSU safeties coach Bill Busch). His consistency ever since we left our visit in February has been amazing. He has messaged me or messaged Speedy every day, including the day I buried my husband. That really meant a lot.
"And (defensive backs coach Corey Raymond's) style, the guys he has been able to put in the NFL, that spoke volumes. His approach and way of coaching stands out.
"With Coach O there, it sealed the deal. It's only a 50 minute flight from Houston. I have no problem with the flight or the drive. Speedy and I are extremely close, so this is a great fit."
With one chapter of his high school career now closed, Banks is that much closer to following in his father's footsteps and putting on a college football jersey at one of the nation's top programs.
One year from now, Banks will be in Baton Rouge going through summer workouts with the Tigers as he prepares for his freshman season in the SEC.
"We are done with recruiting," Banks-Meeks said. "We had an Alabama official visit scheduled for next weekend, but we cancelled it this morning. We will travel this summer to get away and regroup, and then we will focus on his senior year."