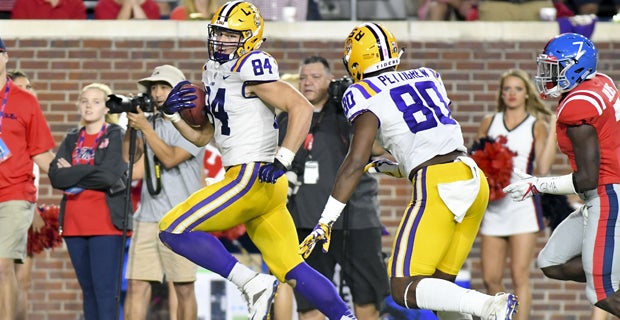 The No. 18 jersey has a new owner in Baton Rouge.
On Friday evening, LSU head coach Ed Orgeron presented senior tight end Foster Moreau with the No. 18 jersey, which is handed down each year through the program to a player that best represents what it means to be a Tiger.
For Moreau, the path to LSU wasn't one taken by the normal recruit. For the New Orleans native, he almost never suited up for the Tigers.
On the eve of National Signing Day in 2015, Moreau didn't hold a scholarship from LSU. All signs pointed to him attending Tulane.
But by the time the National Signing Day kicked off, the Tigers found themselves with an extra scholarship spot. The staff dialed up Moreau, who committed on the spot. Two hours later, he had signed with LSU.
"I'm in the shower listening to music on a speaker," Moreau told The Advocate's Ross Dellenger in a 2017 interview. "And I hear my phone ring, and I'm like, 'Oh, my God.' I have soap in my hair. I jump out the shower and bolt to my phone. It's coach (Cam) Cameron.
"I pick up, and coach (Les) Miles is on the line. He goes, 'Hey, Foster, how ya doing?'
The scholarship was delivered then and there, and the rest is history.
Moreau's No. 18 honor comes a year after two players wore the number for the Tigers last season: fullback JD Moore and defensive end Christian LaCouture.
After leaving Jesuit High as a three-star tight end prospect, Moreau made an immediate impact his freshman season in Baton Rouge. He was one of just seven true freshmen to see action in the season opener against Mississippi State, ultimately playing in all 12 games and earning starts against the likes of Alabama and Ole Miss.
By his sophomore season in 2016, Moreau started a handful more games, even nabbing his first touchdown catch. Last fall, the junior had his breakout campaign.
He started all 13 games at tight end for the Tigers and finished fourth on the team in receptions and yards with 24 catches and 278 yards. He tied for the most receiving touchdowns on the team with three, which included two touchdown grabs against Troy, becoming the first LSU tight end since Richard Dickson in the 2008 BCS Championship Game to catch two touchdowns in a single game. Later in the season, Moreau had a career-long touchdown reception of 60 yards at Ole Miss. He then finished the season off with a bang, grabbing a career-high four receptions for 64 yards in the Citrus Bowl against Notre Dame.
Set to graduate from LSU in December, Moreau enters his senior season as the team's top tight end and one of the leaders on the roster, serving as one of three players that attended this year's SEC Media Days. In total, Moreau has seen action in 36 games and started 19 games. This fall, he has a chance to jump into LSU's Top 10 all-time for receptions, receiving yards and receiving touchdowns by a tight end. In three years, Moreau has totaled 30 receptions for 357 yards and four touchdowns.