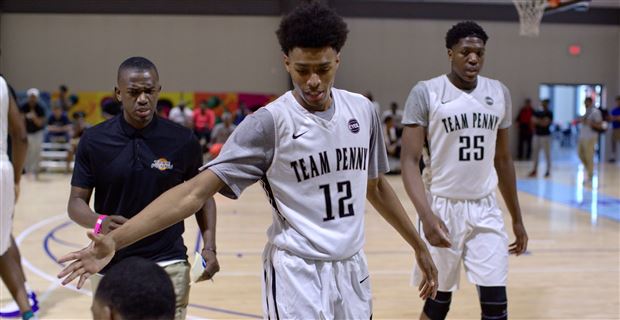 The Memphis Tigers received a surprising commitment from three-star shooting guard Ryan Boyce this afternoon.
I'm Staying Home?????? #GTG???? pic.twitter.com/CNiHm5ZC6h

— Ryan Boyce? (@RyanBoyce70) June 7, 2018
Boyce originally signed and committed to the UAB Blazers, and it was a big get for head coach Rob Ehsan and company. He was recently released from his NLI with UAB. The Boyce family was very appreciative of the opportunity afforded to them by the UAB staff, but they could not pass up a chance to play in the city he's from.
"It's a blessing to have him here in the city," Ryan Boyce's father, Rhea Boyce, said. "UAB is a great place and we were looking forward to it. But to have an opportunity to stay in Memphis and play for someone like Penny Hardaway is nothing short of a blessing."
This commitment means the two highest rated seniors from Penny Hardaway's state winning East High School team. Three-star center Malcolm Dandridge also committed to the Tigers recently. James Wiseman and Chandler Lawson are the only two contributors from that team not committed to Memphis.
The family has a longstanding relationship with Hardaway, which made it feel like the best fit in the longrun. Boyce feels like his short and longterm goals will be fulfilled under Hardaway and his staff.
"Being with Penny he taught me a lot of fundamentals about the game," Boyce said. "He was a father and mentor. He taught me about the game. I knew he'd do anything for me to reach my goals. My main goal is to be one of the best college players to ever play at Memphis. Then my other is to play at the next level."
Building chemistry will not be a problem for Boyce and his fellow Memphis Tigers as he's played with both point guards. He's played against Team Thad point guard Tyler Harris and on Team Penny/ East High School with Alex Lomax.
"Most of the players on the Memphis Tigers team I've already played with," Boyce said."It will be easier to build chemistry. It will be easy to do what we do and what Penny wants us to do."
Boyce has grown as a player over the last two years. He's become a very consistent three-point shooter which when added to his incredible bounce and athleticism make him an interesting 3-and-D prospect down the line. Memphis has been going after wings just like Boyce since Hardaway's arrival. According to the 247Sports Composite Rankings, Boyce is ranked No. 226 in the nation and No. 6 in the state of Tennessee. He had other interests from Florida, Ole Miss and SMU.
The expectation is the Tigers are going to play fast and scrappy under Hardaway. Boyce hasn't spoken to the coaching staff about play style, but Boyce said he knows Hardaway "loves a scrappy team."
As of right now it is not clear if Boyce will be walking on or not. The Tigers opened up Karim Sameh Azab's scholarship to take on Lance Thomas, which was their last one. If Jayden Hardaway signed an NLI and financial aid agreement, which he most likely did, he cannot be moved to walk-on status until after this season. A scholarship could open up if a current player were to transfer, but then the Tigers would be open to more APR difficulties.
"Right now we haven't figured that out," Rhea Boyce said. "We're in discussion right now. We'll reveal that later on."