CORAL GABLES, Fla. – Miami's annual Paradise Camp has netted yet another commitment.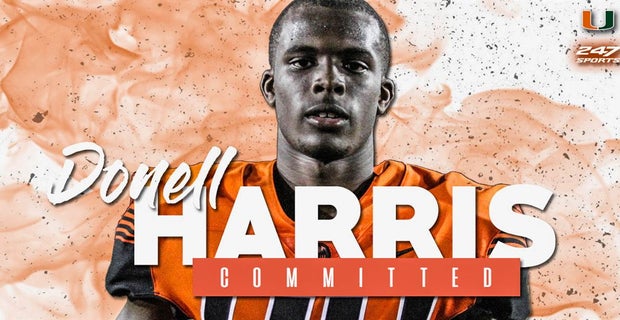 Booker T. Washington 2021 defeneisve end Donell Harris gave a verbal pledge to the Hurricanes after working out in front of Mark Richt and UM legends like former defensive tackle Warren Sapp, former linebacker Jon Beason, former linebacker Jonathan Vilma, former offensive lineman Bryant McKinnie, former wide receiver Lamar Thomas, former defensive back Bennie Blades, and former running back Clinton Portis as guest coaches.
Harris, who is unranked by all major recruiting services at the time, picked UM over early offers from Baylor, N.C. State and Syracuse.
Following the camp, Harris said a big reason why he gave his pledge to the Hurricanes was because of his relationship with UM defensive line coach Jess Simpson.
"Miami is my first choice," Harris said after the camp. "I like coach Jess. He is a very strong coach, he is very vocal, and very hands on. I love the way that he coaches his players."
Harris hails from the same high school as current UM defensive end Demetrius Jackson, who he has a relationship with. Jackson has come back to Booker T. Washington to help give Harris some pointers going into this 2018 season.
"That is my guy right there," Harris said. "He went to Booker T. and he helps me out a lot. He has come by the school and helped me with my pass rush moves and things like that. He is a guy I definitely look up to."
Miami now holds three commitments in the Class of 2021 as Harris joins Fort Lauderdale American Heritage safety James Williams and Miami Central offensive lineman Laurence Seymore. Harris is the fourth prospect to commit to Miami this weekend following the South Dade 2020 trio of Jonathan Denis, Keshawn Washington and Jaiden Francois decision to pick the Hurricanes on Friday.
Harris (6-5, 210) earned his Miami offer after impressing at a Mark Richt Summer Camp during the month of June. He had primarily focused on basketball up until this point and now will turn his attention to playing defensive end on the gridiron.