HOMESTEAD, Fla. – Patrick Joyner was an effective rusher off the edge while at South Dade.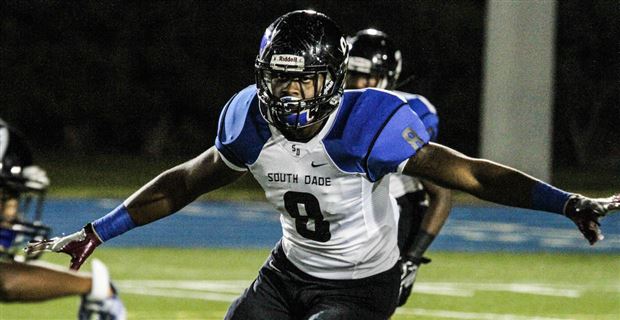 However, when he was moved to linebacker, where he is expected to play at the University of Miami when he enrolls next week, he made a smooth transition.
"The way we utilized him, he was more of a dual-threat," South Dade head coach Nate Hudson said. "He's an awesome edge-rusher. He understands how to engage, he contains the outside, but he also has weapons that he can go inside. He can spin move, he can club you, and then when we moved him back to linebacker, it's just natural.
"His instincts are there, we can blitz him in the 'A' gaps, we can twist him, he can play him on the front line. He has various weapons that he can utilize and he's a student of the game. He's a sponge, he absorbs it, and he has a great motor—that's the biggest thing about him."
Joyner earned All-Dade 8A-6A First-Team honors as a senior recording 87 tackles and 16 sacks.
At 6-foot-3 and 220 pounds, Joyner was considered a three-star prospect by the 247Sports Composite. He is the only linebacker Miami signed in the 2018 class.
He is scheduled to begin classes at Miami for Summer Session A on Monday along with a number of other newcomers, who will join the team for the beginning of their summer offseason weight training and conditioning program.
"He's been getting ready for the summer," Hudson said. "I wish him well. We're going to miss him obviously. He made a huge impact. He was our defensive player of the year being able to lead, not necessarily just in sacks, but in tackles as well."
Christopher Stock has covered the Miami Hurricanes since 2003 and can be reached by e-mail at stock@insidetheu.com and on Twitter @InsideTheU.