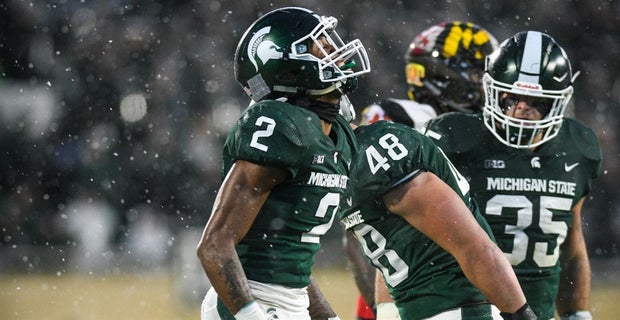 Justin Layne no longer feels like a wide receiver playing cornerback. Not after starting 14 of his 22 career games at the position.
"I feel like I finally reached a point where I'm done with that," Layne said, adding the exact moment came around the Iowa and Michigan games near the midpoint of last season.
The 6-foot-3 junior was recruited to Michigan State as a wide receiver -- a promising one, too. Layne was a four-star prospect in the 247Sports Composite rankings out of Cleveland Benedictine.
He lasted four games on offense as a true freshman in 2016 before being flipped to the other side of the ball. He never recorded a catch from his own teammate, though he returned an interception for a 43-yard touchdown in his first start against Northwestern that season, and his career path was forever altered.
First-year defensive backs coach Paul Haynes, who has coached the position almost exclusively for more than two decades, said he might not have known Layne's past as a receiver had he not been told ahead of time. Once Haynes arrived on campus and began digging into the 2017 season, he completely understood Layne's switch to the secondary.
"He does a lot of things naturally," Haynes said. "When you sit there and you watch on film – and that's one thing I'm not going to do is over-coach him. The last thing I want to do is over-coach a natural athlete. They did tell me he switched over from wideout, but he does a lot of things natural at corner that are very impressive. He's big, he's long, he's rangy, he can run."
The prospect of Layne coming back, after an All-Big Ten honorable mention season, and starting alongside sophomore corner Josiah Scott had some reminiscing about the 2013 team that featured eventual first-round picks Darqueze Dennard and Trae Waynes on the edges. This team, like the Rose Bowl-winning squad, has the right pieces elsewhere that can make a great secondary pop. And when the back end of MSU's defense is solid, everything else becomes easier.
But Scott suffered an injury that'll sideline him for about two months, head coach Mark Dantonio said Monday. The position's depth also took a hit when senior cornerback Tyson Smith had to step away from football for health reasons.
The group – including safeties David Dowell and Khari Willis – that could have been the best since the "No Fly Zone" won't be able to reach its full potential until mid-season.
"I feel like at the corner position I've gotta lead whoever's on the other side because obviously they don't have the experience I have," Layne said. "I feel like I've got to just be a leader and hold my own."
Redshirt junior Josh Butler, redshirt freshman Shakur Brown, true freshmen Kalon Gervin and Davion Williams and others are competing to replace Scott in the interim.
With just two other starting jobs to fill – outside linebacker and defensive end – Layne has high expectations for a unit that finished No. 7 in total defense, No. 15 in defensive efficiency and No. 17 in pass-efficiency defense last season.
"I just think that everyone is more confident in their game," Layne said. "Everyone is vocal, talking to each other. They say a loud defense is a good defense. Just the whole overall swag of the defense just changed. Everybody's older, so just naturally we're going to be leaders."