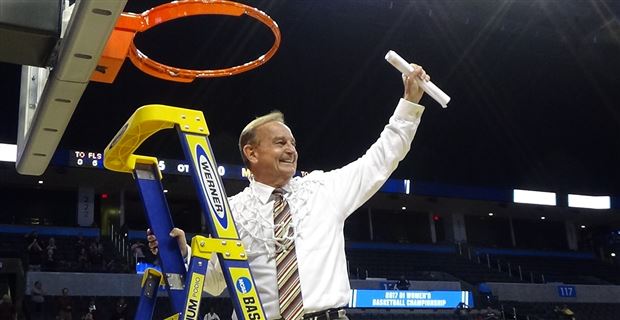 Vic Schaefer is getting paid.
Mississippi State's women's basketball head coach just signed one of the nation's top salaries in the sport in June and the University announced details on Monday afternoon. After a 37-win season in which the Bulldogs pulled off a Southeastern Conference regular season championship, their second-straight trip to the Final Four and another National Runners Up finish, he extended his contract four more years.
"Coach Schaefer has elevated our women's basketball program to an elite level," MSU Director of Athletics John Cohen said in a school release. "His student-athletes' achievements both in the classroom and on the court have set a standard of excellence. We look forward to seeing our national coach of the year on the sidelines for a long time to come."
Among Schaefer's contract details is a base salary of $1,584,000 in 2018, $1,550,000 in 2019, $1,600,000 in 2020 and $1,650,000. Also included in those contract details is a $375,000 bonus if he remains the head coach in June of 2021- an incentive that could come into play in the event that Texas A&M coach Gary Blair retires soon.
The salary would currently rank Schaefer as the highest paid SEC coach passing South Carolina's Dawn Staley who was given a raise to $1.45 mil after her national championship win last year against the Bulldogs.
Schaefer is heading into his seventh season with the maroon and white and each year has been better than the last. After earning just 13 wins in his first season, Schaefer won 22 games in year two and had the Bulldogs playing in the WNIT Quarterfinals. In 2014-15, MSU made the NCAA Tournament for the first time in five years and beat Tulane in the first round as they got to a 27-7 record. It was also their first winning season in SEC play since 2009-10.
The win total improved again in 2015-16 as MSU was 11-5 in league play again as well as 28-8 overall. They hosted the first two rounds of the NCAA Tournament for the first time in school history and made it to the Sweet 16. In 2016-17, State won a school-record 34 games and rose to top-5 in the country as they finished second in the SEC. They eventually knocked off Washington, Baylor and No. 1 UConn in three-straight games all the way to the national championship where they fell short against South Carolina in the title game.
Last season topped them all. The Bulldogs won the first 30 games a season ago and earned a No. 2 ranking for most of the year. They eventually were awarded a No. 1 seed in the NCAA Tournament for the first time and advanced to a second-straight Final Four where they defeated Louisville but lost on a last-second shot against Notre Dame falling short of another title.
Schaefer was named the Naismith Coach of the Year as well as the SEC Coach of the Year this season for his work with the Bulldogs.
"We are excited about continuing our quest of winning SEC and National Championships and extending the success of recent years," Schaefer said. "I convey my heartfelt appreciation and gratitude to my dedicated and talented staff, to my high achieving student-athletes and to the enthusiastic fan support of Bulldogs across the country. I also want to thank Dr. (Mark) Keenum and Mr. (John) Cohen for their trust, confidence and continued support of our women's basketball program. My highest priority is to continue the precedence that we have established through recruiting quality student-athletes, maintaining the highest of personal conduct, integrity and performance standards, graduating our student athletes, and bringing national prominence to this great University and to the Bulldog Nation.
Schaefer enters this season having to replace four of his five starters as Blair Schaefer, Roshunda Johnson, Morgan William and Victoria Vivians all graduated. The Bulldogs return All-SEC center Teaira McCowan who led the country in rebounding and brought in a top 15 signing class.