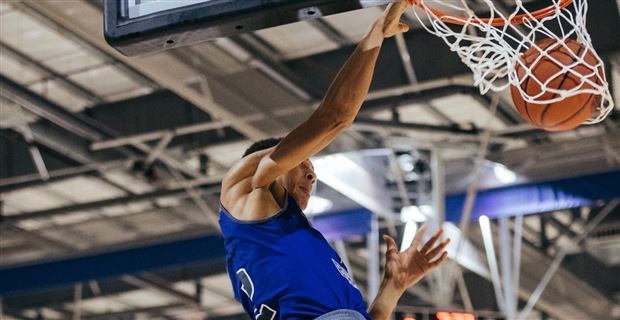 Signature on paper, with that paper processed through the proper channels, Amir Harris is now officially a member of the Nebraska basketball program.
Husker head coach Tim Miles announced on Monday that Harris has signed his letter of intent.
A 6-foot-4, 180-pound guard, Harris attends St. James School in Hagerstown, Md. He averaged 11.5 points, 6.3 rebounds, 6.4 assists, 1.8 steals and 1.4 blocks per game as a senior, as the school went 19-11 and won the Mid-Atlantic Conference Tournament Championship. In the 2018 Mid-Atlantic Conference championship, he showed his ability to check a lot of boxes, scoring 11 points, 13 assists and eight rebounds.
"The addition of Amir is great for Nebraska basketball," Miles said in a statement. "He's a first-class kid, an excellent student and an unbelievable athlete. Amir has worked hard at his game and did a great job with St. James this season. He can play and guard multiple positions, and we love his versatility. We look forward to helping him develop into a complete player in our program."
A three-star prospect according to 247Sports, Harris was the Hagerstown Herald-Mail Player of the Year and a first-team DMVelite All-Maryland Team selection in 2017-18.
He earned second-team all-county honors as a sophomore and a junior. As a junior at St. Maria Goretti High School, he was on a 29-9 squad, averaging 8.5 points, 4.7 rebounds, 1.3 steals per game and leading the team in both assists (4.3 pg) and blocks (1.3 pg). He began his varsity career at South Hagerstown as a sophomore, chipping in 12.3 points, 6.8 rebounds, 4.1 assists and 3.1 steals per game.
He played AAU basketball for New World and Coach Renard Phillips.
The Huskers were in the market for a guard after Xavier Johnson reopened his recruitment after previously being committed to Nebraska. Johnson ultimately ended up picking Pittsburgh. According to Brian Snow of 247Sports, "Harris brings the size to play either guard spot, and also has the ability to be an impact defender. Currently Harris is at his best when playing off of ball screens and attacking the rim downhill. Harris can really finish at the rim because of his size and athleticism, and has a pretty good ability to change direction off the dribble why going at full speed."
Harris has a 4.0 GPA. He picked the Huskers over Rhode Island, Oklahoma State, Auburn, SMU and Cal. Harris was once committed to Rhode Island, but reopened his recruitment back in October. He joins 6-11 forward Brady Heiman of Platteview, 6-foot-6 wing Karrington Davis and 6-4 transfer guard Dachon Burke as members of this recruiting class, though Burke is required to sit out the upcoming season.
Having committed to the Huskers last week, Harris now puts Nebraska on the brink of filling up its scholarships. There is one open spot still remaining for Tim Miles.