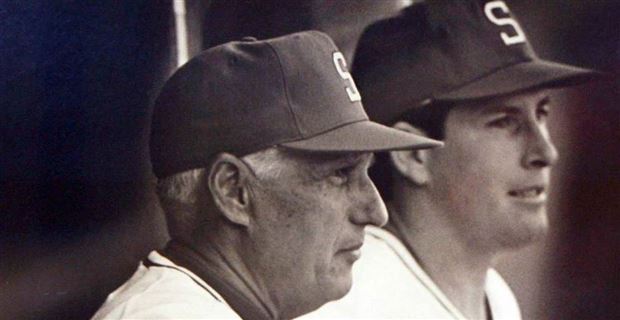 Legendary NC State baseball head coach Sam Esposito, a member of the NC State Hall of Fame, passed away Monday evening.
Esposito, 86, was the manager for the Wolfpack from 1967 through 1987, guiding the program to its first College World Series in 1968 -- in only his second season at the helm. Under Esposito, the Pack 9 went 513-253-4, which still stands as the second-most wins in program history under one head coach. Only Elliott Avent (833-509) has more wins than Esposito.
"Coach Esposito was the Godfather of NC State Athletics," said Avent. "He was at the root of much of the athletics department's success stories during the '70s and '80s. Almost every morning at around 5:30, coaches would gather in Coach Esposito's office for counsel and advice.
"He and Coach (Jim) Valvano were extremely close and Coach V would tell you that a lot of the success he had here was because of the advice from Coach Esposito. He had a profound impact on all of the coaches and players from Monte Towe, Tommy Burleson, David Thompson, Ray Tanner, Tim Stoddard, Eddie Biedenbach, Chuck Amato, George Tarantini to Bob Guzzo. We owe a lot of gratitude and thanks to Coach Esposito because he was largely responsible for our success."
During his time with the Wolfpack, Esposito won ACC Coach of the Year twice in 1984 and 1986 and won the ACC Tournament Championship three times from 1973-75. Esposito also coached three ACC Players of the Year (Chris Cammack -- 1969, Mike Caldwell -- 1971, Tracy Woodson -- 1984), seven All-Americans and 12 future MLB players.
"Coach Esposito was my teacher of life," said South Carolina Director of Athletics Ray Tanner, who played four years (1977-80) for Esposito and was his assistant coach for seven more before taking over the program upon Esposito's retirement in the summer of 1987. "Baseball was a part, but my journey through life always involved his touch. I never made an important decision unless he gave me guidance. From my first day as a freshman and throughout my professional life, he was my second father. The greatest coach ever--R.I.P."
Esposito impact at NC State was not only the head coach of the baseball team, but also as an assistant coach for the basketball team. On staff under Norm Sloan, Esposito was an assistant during the 1974 National Championship run, famously vouching for Norm Sloan to start All-ACC First Team point guard Monte Towe.
Prior to taking over the program, Esposito spent 10 years in the MLB with the Chicago White Sox and Kansas City Athletics. Esposito played at the MLB full-time for seven of those seasons, taking time away from the sport from 1952-53 for military service to serve his country.
This story will be updated.