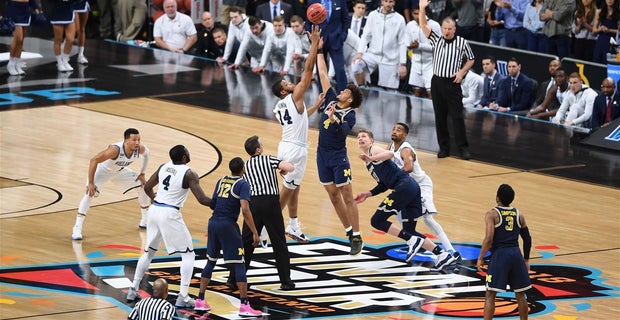 Several months ago, the Rice Commission came up with several recommendations to help change college basketball. Wednesday, the NCAA announced that several of those recommendations would come into play, some immediately.
The headliners? That undrafted college basketball players will be able to return to college, provided that they notify their athletics director of their intent by 5 p.m. the Monday after the draft. That "elite" high school and college basketball players will be able to hire and retain agents. And there will be more chances for players to make official visits.
The first part won't occur until the NBA passes an accompanying rule — the NCAA.com release calls it an "expected rule change" — that would make undrafted players who elect to return to school ineligible to play in the NBA until after the following college basketball season.
As for the agents, players who are identified as "elite senior prospect(s)" by USA Basketball will be able to hire an agent starting on July 1 before their senior year in high school. But that clause wouldn't become available until the NBA/NBA Players' Association allows high school players to enter the draft, effectively ending the one-and-done era.
As for college players, if they request an evaluation from the NBA Undergraduate Advisory Committee, they can be represented by an agent "beginning after any basketball season," with that change effective immediately. Those agents may also pay for certain expenses, including "meals and transportation for players and their families if the expenses are related to the agent selection process. Also, the student cannot miss class, and the money must be spent where the student lives or attends school. Additionally, high school and college student-athletes and their families can have meals, transportation and lodging paid for by an agent if those expenses are associated with meetings with the agent or a pro team." Those agent agreements must be in writing, disclosed to the NCAA or school and "terminated when the student enrolls in or returns to college." And the agents must be certified by an NCAA program, though family members or "those who act solely on behalf of a professional sports team" don't have to be certified.
To help with the decision-making process, all those who want to enter the draft must request an evaluation from the NBA Undergraduate Advisory Committee, effective immediately.
From a recruiting standpoint, one of the biggest changes is the restructuring of visits. Students can now take a total of 15 official visits, though those are split up: 5 official visits between Aug. 1 the summer before their junior year and the end of their junior year, 5 visits between the end of their junior year and Oct. 15 after high school graduation and 5 visits between Oct. 15 after high school graduation and the remainder of their college careers. Players can only have 1 official visit per school per year, while unofficial visits can't start until Aug. 1 of a student's sophomore year of high school.
Those changes start Aug. 15.
Per the NCAA, schools can now pay for 28 official visits for recruits — 34 for national service academies — over a rolling two-year period.
Another rules change includes degree completion assistance for basketball players who leave school and attempt to return later to earn their degree, provided they were 1) in school for two years before leaving and 2) fewer than 10 years have passed since they left school. That change will start Aug. 1, 2019.