CHAPEL HILL, N.C. --- Three and nine. North Carolina's 2017 record has a nasty ring to it, and it remains on the minds of Tar Heels and opponents alike. It has been a source of motivation for the UNC players and coaches through a long offseason, while the opposition is citing it on the recruiting trail. North Carolina has not played meaningful football since Nov. 25, 2017, a 33-21 loss at rival N.C. State. The Wolfpack are the same team that has capitalized on UNC's recent misfortune, by winning in-state recruiting battles this summer, much to the chagrin of the Tar Heel fanbase. All that sets the table for a pivotal 2018 season.
UNC athletic director Bubba Cunningham took some time to answer questions about the state of the Tar Heel football program while on campus Tuesday promoting the North Carolina Division of Motor Vehicles Real ID, a new driver's license that all state residents will be required to have by 2020. Cunningham recognized the disappointment in the 3-9 season but understands a lot of what caused it ---- a devasting rash of injuries. He is optimistic for the future of the program and places his confidence in head coach Larry Fedora, who won the ACC's Coastal Division in 2015 during an 11-3 season.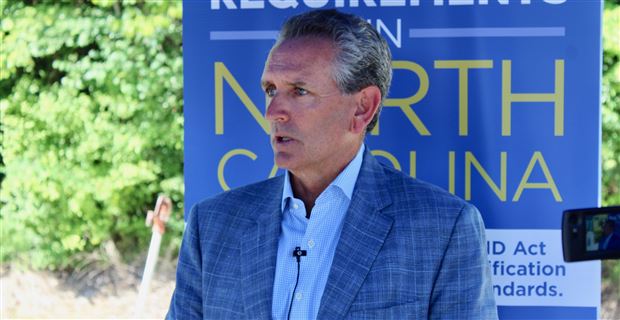 "I feel great with where the football program is," Cunningham said. "Obviously, we are disappointed in last year but that's an anomaly. We had a rough year with all the injuries. We've done a lot of work in the offseason to try and understand why we had the injuries, how to reduce the injuries. We've invested a lot of money and time and resources into trying to figure that out. Larry has kind of revamped the fall camp schedule to put ourselves in a position where we wouldn't have as many injuries.
"But I feel very good going into the season. I think they have done a great job in recruiting. They have a great coaching staff. I really believe in the students that we have. And they have done a great job, so I am very excited about the season."
Elaborating on the research that went on in the offseason, Cunningham said that as an athletic program they left no stone unturned to figure out the root of the injuries and the best methods of prevention.
"We looked at everything," Cunningham said. "Whether it happened at practice. Whether it happened in a game. Whether it happened on grass, on turf. How fatigued somebody was. What their lifting habits were. What their eating habits were, sleep habits. We looked at all that stuff. What their GPS readings were --- how hard they were exerting themselves in a practice and games. All those factor into fatigue and whether or not you have been previously injured to determine how likely is it you will be injured in the future. We are taking all that data and working the Excercise and Sports Science (Department) as well as the trainers and strength coaches to figure out how we put the kids in the best situation to be successful."
The beginning of North Carolina's 2018 schedule presents challenges, but also some beatable competition. The Tar Heels, which begin preseason training camp in early August, take on the Cal Bears (5-7 in 2017) on September 1 in Berkeley, Calif. They then travel to East Carolina (3-9) before returning to Chapel Hill for home games against UCF (13-0) and Pittsburgh (5-7, including a 34-31 home loss to UNC).
With some many unknowns, after the Panthers come to town on Sept. 22, North Carolina seemingly could be sitting at 4-0, 3-1, 2-2, or 1-3.
The 2018 season is a big one for Fedora and the Tar Heel football program. Cunningham is optimistic about what lies ahead.
"I am excited about the first year that Larry has been here where he is not recruiting under some false pretenses, or people negatively recruiting against us. So I am very excited about that. I think the coaches have done a great job of being very positive about the program."