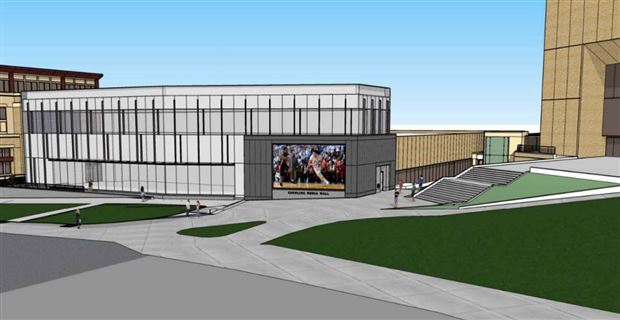 North Carolina is almost ready for the big screen.
UNC will soon begin construction on a new media communications center in preparation for the launch of the ACC Network in the fall of 2019. The school's Board of Trustees recently approved the design of the facility, which will feature studios, control rooms, office space, and a large video board in 13,600 square feet at Koury Natatorium.
The construction is part of a $10 million project including equipment and additional staffing as UNC upgrades its infrastructure to meet increased programming demands of the ACC's dedicated TV channel. Other schools in the conference are making similar arrangements ahead of the debut of the ESPN-affiliated cable network. UNC's new space should be ready in the summer of 2019.
"We've known it's coming for a while now," said Ken Cleary, UNC assistant athletic director for new media. "We're excited to actually see the physical manifestation of this project instead of lots of meetings and things on paper."
Cleary is among a group of athletic department employees who will be displaced during construction. Those workers, including most of UNC's athletic communications staff, have moved out of their offices at the natatorium, which is adjacent to the Smith Center on South Campus.
The new media center will be two stories and will provide entertainment to TV viewers and game attendees alike. A wall of windows facing Skipper Bowles Drive will give the public a view of what is going on inside the main studio, and the new video board — 27 feet wide, Cleary said — will provide additional entertainment and messaging.
No programming plans for the video board or the ACC Network are official at this point, but it's easy to imagine the possibilities. As fans stream out of the Smith Center after watching the Tar Heels play an early season men's basketball game in 2019, they could see highlights on the video board. When they walk past the media center, which will be lit up in the darkness of night, they could listen to commentary and interviews as they watch people inside putting on a postgame show.
"Some of that particular part of it is really an enhancement to our game production," Cleary said. "It doesn't just start when you walk in and end when you walk out the doors. How do we give the fan a broader experience than just that? If you're going to be standing waiting for a bus or if you're here a little bit early and just want to drink in the atmosphere, we can give you a little bit more."
The first floor of the new facility will house three control rooms, three studios, and a three-wall green screen that UNC can use to create animated graphics, Cleary said. Two of the control rooms will be large enough to produce linear broadcasts, the full-scale coverage of games that fans are accustomed to seeing on ESPN. The third will be able to produce games at the level that UNC did for 150 ACC Network Extra broadcasts during the 2017-18 academic year.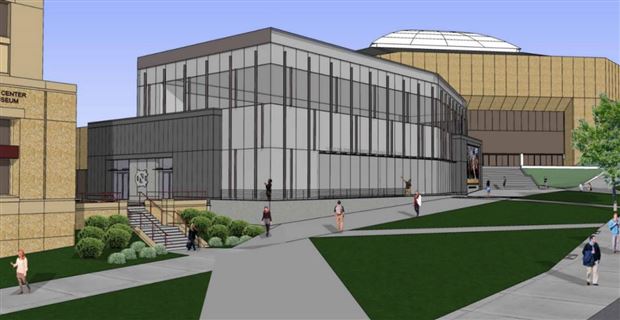 The main studio will be large and can be used for a variety of content, including weekly coaches' TV shows and pregame and postgame TV shows. A smaller studio, large enough to accommodate four people, will be used for radio shows, podcasts, and other audio productions. The third studio will be another small space, a place where UNC players and coaches can sit in front of a backdrop and appear as guests on ESPN programs. ESPN will control the lights and audio for that studio from its locations in Charlotte and Bristol, Connecticut, Cleary said.
While the new media center is being built, UNC faces a year of transition as it provides coverage of its 28 varsity sports teams for the current version of the ACC Network. UNC still has its small primary control room in the Smith Center, which handles electronic signage and LED displays at Kenan Stadium in addition to almost everything that the school does for its major ACC Network broadcasts. A secondary control room in Carmichael Arena controls all Carmichael video board productions and some ACC Network Extra events with lower production requirements.
Cleary and his officemates will ride the wave of change in a confined area. They will spend the year in Bowles Hall, located just above the court and visiting team's tunnel in the Smith Center, until their modern office space is finished in the new building.
"It's a little bit more cramped, but it's a means to an end," Cleary said. "What we're looking at a year from now is something that's really, really exciting. We're going to have a great media communications center that will help us be on the cutting edge. It will help us cover our teams better, and it will help us produce those events better and easier, and more of them."