The second visit was enough for Day'Ron Sharpe. The Winterville (N.C.) South Central rising junior post player committed to Roy Williams and the Tar Heels on Sunday evening while visiting the Chapel Hill campus, his father Derrick Sharpe confirmed to Inside Carolina.
"We weren't expecting it, and it kind of came out of the blue," said Derrick Sharpe about the commitment. "He told Coach Williams and Coach was just really excited about it."
Sharpe, listed at 6-9, 220 pounds, is UNC's first commitment in the class of 2020. He chose UNC over early offers from Florida, Georgetown, N.C. State, Virginia and UConn.
"Every since I've known him, back when he was in the 7th grade, Carolina has been his favorite school," South Central head coach Chris Cherry said. "It was always 'UNC, UNC.'"
Sharpe averaged 14.3 points and 9.3 rebounds as a sophomore this past season at South Central.
"For a young big man, Sharpe boasts an advanced skill level and is well ahead of the curve," said Inside Carolina scouting expert Rob Harrington. "His hand-eye coordination is outstanding, and accordingly so are his hands, which are sure to snag even errant passes within his vicinity. He also carries a solid frame he should easily be able to augment with muscle as he matures. Meanwhile, he has a nose for finishing inside, albeit he is not as yet a truly explosive athlete. He also has a somewhat unorthodox stride. Nevertheless, with two more years of high school to play, he's considered a national prospect for very good reason."
Sharpe entered the Tar Heel radar last summer, receiving initial evaluations by lead UNC staff recruiter Steve Robinson on the 15-under circuit. This past February he was courtside for UNC's game against Pittsburgh, and two weeks later Roy Williams was courtside for Sharpe's game at South Central. Williams offered Sharpe on April 30, one day after watching him post 29 points and 12 rebounds for Garner Road in an 8 a.m. game on the adidas 16-under circuit in Atlanta.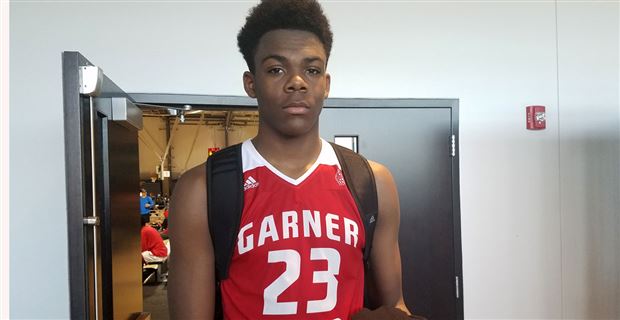 "He's up to about 6-9 right now. He's played incredibly well for us this season, and is just scratching the surface of what he could become," Cherry said. "He has all the tools to be successful. He's an elite rim protector for his age and he does a good job of playing vertical. I like his ability to anticipate, which is rare for a kid his size and that young. He's third on our team in steals, and he's an excellent rebounder. He has a good all-around game. I think (the UNC coaches) like his athleticism and length for sure. He moves very well laterally, and they see a lot of upside in him."
Prior to Sunday's visit to Chapel Hill, Sharpe was experiencing his biggest national test to date, as a participant at the NBPA Top 100 Camp in Charlottesville, Va.
"Day'Ron is a five-star player," Garner Road director Dwayne West said. "He has a great feel for the game that translates into positive plays for his teammates and himself. He passes well on the post, elbow, and wing. He scores in different ways efficiently - with no selfish tendencies. Off the court, he is a mature leader that enjoys his team and is a kid that's enjoyable to be around."