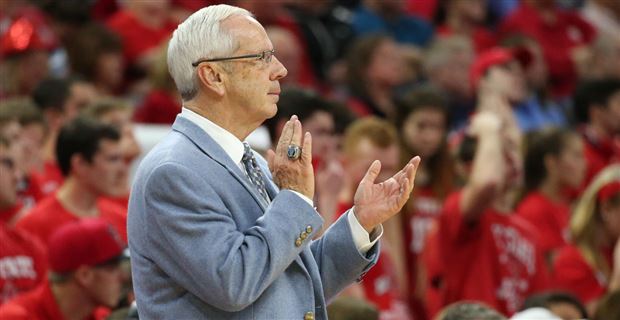 North Carolina could have among the nation's top frontcourts in 2018-19. But with a pair of seniors and a freshman who could be the top pick in the 2019 NBA Draft, ESPN's Jeff Borzello said the Tar Heels' biggest recruiting need was coming up with forward replacements.
"The Tar Heels' frontcourt in 2019-20 will look dramatically different than the one set to hit the floor this season," Borzello wrote. "Luke Maye and Cameron Johnson will be out of eligibility, and Nassir Little is a likely one-and-done lottery pick. There's a chance the rising sophomore trio of Garrison Brooks, Sterling Manley and Brandon Huffman takes a collective step up, but Roy Williams will still need an influx of talent up front. Five-star Armando Bacot is considered a Carolina lean, while bigs Will Baker, [Matthew] Hurt, [Vernon] Carey, [James] Wiseman] and [Jeremiah] Robinson-Earl are also on the hit list."
The No. 7 center and No. 25 overall player in the 247Sports Composite, Bacot played well in making the Team USA U18 team that won the gold medal at FIBA Americas. Coming off the bench behind fellow Carolina targets Robinson-Earl and Hurt, Bacot averaged 25.4 points, 16.2 rebounds, 4.3 assists and 2.2 blocks per 40 minutes, scoring in double-figures in three of the six games.
And now he'll team up with Robinson-Earl, whose father played for North Carolina coach Roy Williams (more on this in a minute) at IMG Academy, after both players elected to transfer to the school for their senior seasons. Bacot's 247Sports Crystal Ball is 100 percent North Carolina predictions.
Robinson-Earl will probably be a tougher pull. While he has family ties to Williams — his father, Lester Earl, played for Williams at Kansas — the No. 5 power forward and No. 17 overall player in the 247Sports Composite has even more ties to Kansas, through both his father and his mother. And Kansas holds the edge in Robinson-Earl's 247Sports Crystal Ball with all eight predictions going for the Jayhawks.
Still, his recruitment is expected by many to come down to North Carolina and Kansas, so the Tar Heels have more than a little chance there. And, with the exception of Baker, it's probably a better chance than North Carolina has with some of the other players on Borzello's list. None of Hurt (Kansas, Minnesota), Carey (Duke, Miami, Michigan State) and Wiseman (Memphis, Kentucky) have 247Sports Crystal Ball predictions for the Tar Heels.
That won't matter if North Carolina lands Bacot; anything after that point would have to be considered gravy. A class that includes Bacot and any other big man would have to be considered a strong one, and if Williams finds a way to pull in Robinson-Earl or one of the other players mentioned by Borzello, it would be among the best big man classes in the entire country.
Could that second big be Will Baker? The scoring big man ranks as the No. 6 center and No. 24 player in the 247Sports Composite, and Williams has excelled at developing players like Baker in the past. Baker's 247Sports Crystal Ball has UCLA (75 percent) out ahead, but with 25 percent of Baker's eight predictions, the Tar Heels could be in play.