Brant Lawless has cleared North Carolina admissions and is planning to enroll at the school and join the football program, sources confirmed to Inside Carolina on Thursday. The 6-3, 285-pound defensive tackle from Nashville (Tenn.) Christian received a release from his signed National Letter of Intent with Tennessee last month, making him able to enroll -- and eligible to play -- elsewhere immediately. UNC assistant coach Tommy Thigpen was Lawless's lead recruiter at Tennessee and spearheaded the effort to get him to Chapel Hill, getting him on campus for an official visit two weeks ago.
Lawless was a four-star prospect, according to the 247Sports Composite, ranked No. 22 at his position and the No. 256 overall prospect in the national class of 2018.
North Carolina signed two defensive tackles in its 2018 class -- Jahlil Taylor and Gavin Lewis -- but does not yet have a commitment at that position in its 2019 class.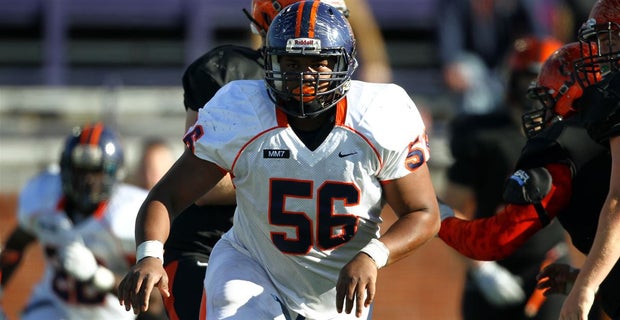 Lawless committed to Tennessee while Butch Jones was the head coach, but stayed with the class when Jeremy Pruitt was hired -- until asking for his release this summer.
When he signed with Tennesee, the Vols coaching staff offered high praise of his abilities. Patrick Brown of GoVols247 reported that Pruitt highlighted Lawless's balance, body control, and striking ability.
"This young man right here comes from a good family here. Really good athlete, really good player -- he's got the ability to come in and help us early, if he does what he's supposed to do," said Vols defensive coordinator Kevin Sherrer.
Vols defensive line coach Tracy Rocker added: "Brant has big upside. We think, no doubt, he can be a definite defensive tackle and help us in that way. The biggest thing is, hey, they all need to get in the weight room, eat a little bit more, get stronger and understand what we're doing defensively."
Lawless earned the 2017 Tennessee Mr. Football Award in his high school classification after posting 49 tackles, 16 tackles for loss and 6.5 sacks during his senior season.
He committed to Tennessee in May of 2017 over offers from schools including Alabama, Ohio State, LSU, Auburn, Oklahoma, Georgia, Vanderbilt and Mississippi State. At the time, 247Sports's scouting report read as follows:
"There is a lot to like about Lawless. He gets off the ball quickly, shows good anticipation and is very aggressive. Lawless has good flexibility and is very strong. He has quick hands and does a nice job shedding blocks. The Nashville Christian standout is extremely athletic and runs very well. He changes directions fluidly, takes good pursuit angles and closes quickly on the football.
"He can play too high at times, so he will need to improve his pad level. Lawless also needs to develop some moves off the ball. Neither are major concerns and once he gets college coaching, expect him to quickly improve in these areas."