CHAPEL HILL, N.C. – Coming off his first full season as a contributor, junior linebacker Jonathan Smith is poised and ready to secure North Carolina's middle linebacker role entering the 2018 season.
Smith (6-1, 230) is currently flanked by senior Cole Holcomb and junior Dominique Ross in UNC's second line of defense. During his freshman campaign, Smith played the first five games before suffering a fractured foot that ended his season. In 2017, he played in 11 games, including making four starts.
Smith finished with 40 tackles, which put him seventh on the team. He also had four tackles for a loss and one fumble recovery that resulted in a touchdown in week 12 against Western Carolina. He posted a career-high 11 tackles against the Catamounts.
"Before [Andre Smith] went down, I was really just sitting in the back not really paying attention and stuff like that," Smith said. "Once 'Dre went down, that kind of forced me to up my game and get time in the film room and get my game going. So, I'd say probably about last three weeks of the season I got in the film room and decided I needed to step up and become an important leader on the team."
Andre Smith, currently playing for the Carolina Panthers, suffered a season-ending knee injury in Week 2 last season against the Louisville Cardinals, a game in which he made a team-high 11 tackles before leaving the game with the injury.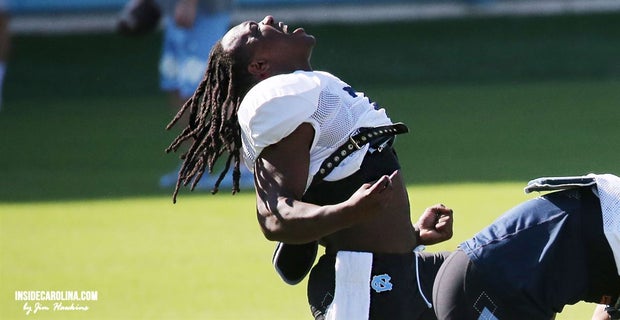 Jonathan Smith, a Laurinburg, N.C. native, carried his work in the film room into spring ball. He says he's ready to fill a leadership role on defense for a unit that ranked last in the ACC in rushing yards allowed per game in 2017.
"My confidence level is through the roof right now," Smith said. "I've got Cole playing beside me, so that's a great asset to me. And just getting in the film room really enhances the confidence."
Smith says he's playing faster, smarter and that his play has turned from thinking through plays to being more instinctive. It's all about understanding the defensive game plan for Smith. That's what he focused on during the offseason and it's allowing him to play faster and react quicker through the first week of camp.
Holcomb slid to middle linebacker last fall once Andre Smith was lost for the season. Defensive coordinator John Papuchis told Inside Carolina last month that whether or not Holcomb stays on the outside will depend on which players win jobs around him. Smith has the edge through the first six days of practice, although freshman Matthew Flint is making strides early.
Smith's continued maturation in the middle will allow Holcomb to play his natural position on the edge, which would be beneficial for a Tar Heel defense that ranked 12th in the ACC in yards per play allowed (5.85) in 2017.