CHAPEL HILL, N.C. – In North Carolina's final play of 2017, Michael Busch stepped into the batter's box and smacked a chopper to first base with Tyler Lynn charging home from third with two outs. In a bang-bang play at first, Davidson's Durin O'Linger beat Busch to the bag to seal the Wildcats' 2-1 victory. The harshness of such a memory provides incredible motivation.
It's also relevant that Busch delivered the final RBI of 2017, a bomb of a home run to deep center that would foreshadow his sophomore season to come. Now, a full year later, Busch has become UNC's most productive bat, hitting .333 and driving in a team-best 63 RBI. He also leads the team in the critical on-base percentage statistic (.478), due in large part to a team-high 54 walks against 30 strikeouts (second-fewest among UNC's typical starting lineup).
As good as those stats may be, the soft-spoken first baseman has been even more lethal in the NCAA Tournament, hitting 10-of-17 with 11 RBI, two home runs and seven walks in five games.
"I think the thing that makes Michael so good is that he knows the strike zone and he just has a knack when a guy is in scoring position of getting him in," UNC associate head coach Scott Forbes said. "If you can get enough guys in your lineup where they're like, 'hey, my batting average may be .280, but I've got 50-plus RBI,' then you've got a chance to score a lot of runs."
In talking with Busch, it's easy to be fooled into thinking the Inver Grove Heights, Minn. native lacks the natural aggression that is prevalent - and necessary – in the college ranks. With youthful looks, impeccable manners and a boyish charm, Busch has crafted a patient, methodical approach at the plate that has added a star bat to a lineup loaded with quality weapons.
"Michael doesn't get fooled a whole lot," UNC head coach Mike Fox said. "He usually gets off a good swing every at-bat, which is your goal. Try to get off at least one good swing, especially against really good pitchers. His heart rate is always low; he smiles a lot. He's got that good temperament. Sounds kind of crazy, but Michael is pretty even keel and I think that helps him."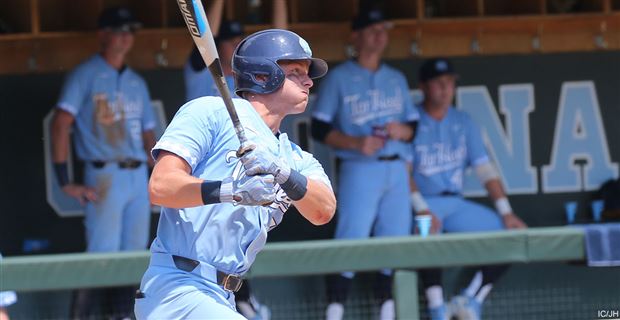 Despite only hitting .215 as a freshman, Busch scratched out hits when his team most needed them. He broke up a no-hitter in the ninth inning with two outs at Florida State, knocking in a run on a RBI single to tie the game. The following night Busch cranked out a two-run home run in the ninth inning to break a 7-7 tie and help UNC notch its first-ever sweep in Tallahassee.
"He was a phenomenal pinch hitter last year," Forbes said. "Just about every time he came off the bench, he got a big hit for us, so that tells you this kid's probably got some clutch in him from the RBI standpoint."
Forbes describes Busch as an old-school baseball player, living in the batting cages and grinding on the minutiae that separates the good from the average. He understands scouting reports and puts the data to work at the plate, waiting for the pitch that he wants.
"I don't really try to guess," Busch said last weekend. "Once you get guessing, you start to get yourself into bad situations."
The 6-foot, 207-pound first baseman hasn't put him in many bad situations this season. He lead the country in RBI (39) when the calendar flipped to April, and after a dip in production in ACC play, Busch has found his groove once again as the Tar Heels head to Omaha for the seventh time since 2006.
"It's baseball," Fox said. "He was hot early in the year, driving in a lot of runs. I think he was the first player in the country to get to a certain number of RBIs, and then the game gets you a little bit. It happens. We were hoping he would get back to where he was at the beginning of the year. He picked a good time."