Cole Anthony is taking an unofficial visit to North Carolina on Wednesday evening, a source close to the situation informed 247 Sports. The 6-2 New York native, ranked the consensus No. 1 guard in the rising senior class, is in the state of N.C. this week to participate in the Chris Paul Elite Guard Camp in Winston-Salem. He visited Wake Forest earlier on Wednesday, according to the source.
Wherever Cole Anthony has played this spring and summer, the North Carolina staff has been there. Tar Heel head coach Roy Williams began the first April evaluation period by watching Anthony play at the EYBL Dallas event. The following week Williams was tracking Anthony at the EYBL games in Indianapolis. In June, Williams traveled to Ontario, Canada to watch Anthony and the other targets playing for Team USA. During the three July evaluation periods, Williams watched Anthony at the Peach Jam in North Augusta, S.C., then went to Westtown, Pa. the next weekend solely to see Anthony at the PSA Cardinals Combine, and a week later was courtside for Anthony's games in Las Vegas. In other words, there was no higher priority on the 2018 recruiting trail for Roy Williams and the Tar Heels.
Anthony has proven himself as the best in the 2019 class against the highest levels of available competition. Anthony was the 2017 EYBL Defensive Player of the Year and the 2018 EYBL MVP. On this year's EYBL regular season circuit playing for the PSA Cardinals, he averaged 26.9 points, 7.6 rebounds, and 3.5 assists. At the Peach Jam (the EYBL Finals), he posted 26.2 points, 8.4 rebounds and 4.8 assists. Playing for Team USA this summer, he was named to the 2018 FIBA Americas U18 Championship All-Tournament Team after helping to lead the team to a 6-0 record and gold medal, averaging 14.3 points and 4.2 assists.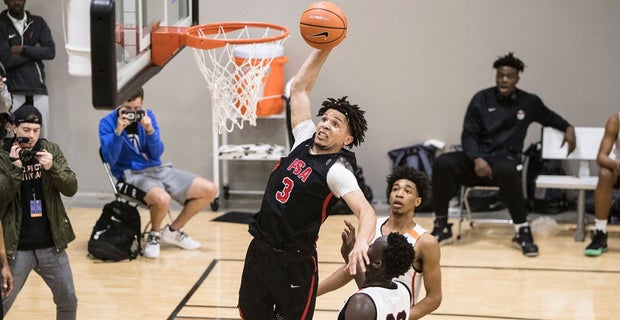 "Cole Anthony asserted himself as the clear top guard in the class with his play this spring and summer," said Brian Snow of 247 Sports. "A true combo guard who can score, make others better and rebound, Anthony is the total package at his position. On top of that he plays with an elite motor and is very consistent."
Anthony is the son of former UNLV star and NBA guard Greg Anthony. "My dad just has so much knowledge of the game. He has a diploma in basketball," Cole said last month. "He's played the game, he's lived my dream. So just being able to talk to him every single day, is a blessing." North Carolina assistant coach Hubert Davis played with Greg Anthony on the New York Knicks under Pat Riley.
On the recruiting front, details have been hard to come by. That's because the Anthony family has decided to keep the process out of the public eye. When asked for a list of suitors, Cole Anthony refrained from getting into specifics.
"I don't want to single any one college out," he said. "I can say that me and my dad will probably lock in after the summer winds down in August. I'm going to be staying with him, so we can really sit down and talk about schools."
In terms of what he is looking for in a college? He wants to win.
"I want to be able to obviously come in as a freshman and not just be on the team, impact the team and have a chance to win a national championship as a freshman," he said. "That's my goal."
Anthony also cited winning when asked about his prep school decision, which in part led him to decide to play his senior season at national powerhouse Oak Hill Academy in Virginia after previously attending Briarwood (N.Y.) Archbishop Malloy.