Former North Carolina center Joel James got married this weekend in Chapel Hill to the former Aquilla Mateen and the Carolina basketball family was there in attendance. Mateen played softball at UNC.
James played four seasons at North Carolina (2012-2016) before heading to play overseas in Japan. He is currently with the Tokyo Hachioji Trains after a season with the Kumamoto Volters.
The attendees for James's wedding included a who's who of Tar Heels from the last few seasons. Among those who were there in attendance were Brice Johnson, Marcus Paige, James Michael McAdoo, J.P. Tokoto, Luke Maye, Nate Britt, Desmond Hubert, Jackson Simmons, Luke Davis, Kanler Coker, Denzel Robinson, and Justin Coleman.
North Carolina head coach Roy Williams and UNC assistant coach Steve Robinson also were there. Johnson, Hubert, and former UNC manager John Bumgarner were among James's groomsmen.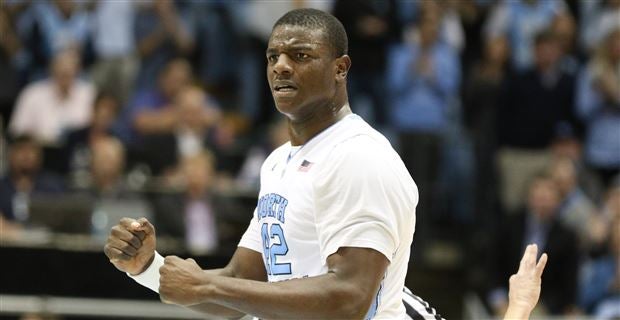 This is the third UNC basketball wedding in recent years. Justin Jackson got married on Aug. 5, 2017, months after helping North Carolina win the 2017 National Championship. Marcus Paige married a former UNC dance team member on Aug. 12, 2017.
James arrived at North Carolina as a raw, big center prospect. The Palm Beach Gardens, Fla. native was ranked as the No. 61 overall prospect and No. 11 center in the 2012 class by 247Sports Composite. The 6-11, 280-pound big man played mostly a reserve role for the Tar Heels during his four seasons in Chapel Hill averaging 8.8 minutes, 2.2 points and 2.3 rebounds per game.
James started 29 total games for North Carolina, including 10 as a senior.
The official UNC basketball Instagram account posted this photo following the wedding:
Groomsman Brice Johnson posted this collage from the weekend:
What an amazing weekend w/ amazing people! #HeelOfAWedding pic.twitter.com/XKrNSbHTHj

— Brice Johnson (@bjohnson_23) June 18, 2018
During his time with UNC basketball, James was well-known has his humor and antics as a role player for the Tar Heels. After a smooth, fade away jumper from the right baseline, James memorably pointed to popular rap star J-Cole, who was sitting courtside in the Smith Center.
Joel James with da wink and point at J. Cole pic.twitter.com/xqFIGj8NoF

— Beattie Hoyle? (@HoyleBeattie) December 2, 2015
After a massive Brice Johnson dunk in the 2016 NCAA Tournament, James left a mark in social media history with his "eating" GIF that has now become famous among Carolina basketball fans.
February 9, 2018
James's wife, Aquilla, started 186 games for UNC's softball team and ranks third all-time at Carolina with a .358 batting average, totaling 12 doubles, 11 triples (T-10th), 28 walks, 44 RBIs, 142 runs (7th) and a .398 on-base percentage. Mateen stole the fifth-most bases in program history, going 70-for-81 (.864). At the time of her graduation, she is ranked 25th in the nation among active players in career triples and 39th in stolen bases.