CHAPEL HILL, N.C. – Throughout the spring season, Jason Strowbridge's day doesn't end when the final whistle is blown at practice. At the conclusion of the team's training session, the junior defensive tackle heads to the weight room for extra conditioning work.
The intent is not to get leaner before the 2018 season begins, but rather to bulk and adjust to his new body.
Strowbridge arrived in Chapel Hill in 2015 and played as a defensive end during his redshirt freshman season. However, the 6-foot-4 defensive lineman made the transition to the interior last spring due to injuries to tackles Aaron Crawford and Jeremiah Clarke.
The Deerfield Beach, Fla. native finished the 2017 season with 34 total tackles, including 5.5 tackles for loss and one sack in nine starts at defensive tackle.
Strowbridge was one of the few players in UNC's front seven that played in every game in an injury-riddled year season despite being undersized at the three-technique. He hovered around 265 pounds throughout his sophomore campaign, which while adding a unique explosiveness to the middle of the line, still left him smaller than most every other player in the trenches.
That's why Strowbridge is doing everything in his power to increase his weight before the fall rolls around. He currently weighs 275 pounds and wants to reach 285 by UNC's season-opening kickoff at California on Sept. 1.
That body transition includes eating around the clock while also improving technique.
"My steps," Strowbridge said when asked about his areas of improvement. "Switching from defensive end to defensive tackle is a little bit different. I think now I'm a little bit better at my steps and taking on those double teams and scoop blocks… Keep making strides with all the rest of the technique that comes with it. Just hand placement, foot steps, my hips, pass rush and transition pass rush."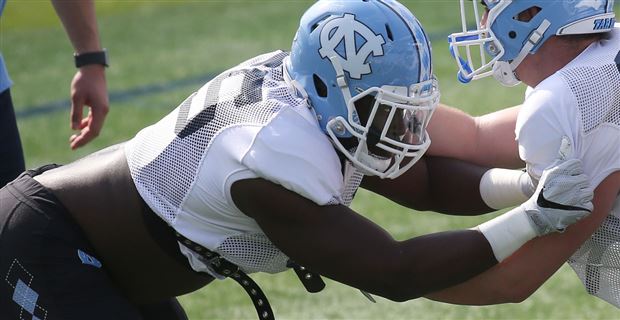 Spring practice has offered Strowbridge a window to reflect on last season's follies while also feeling confident about his new position with a full season under his belt.
"Adversity hit and I think we did what we could to combat that." Strowbridge said. "Even now we have that mentality and it's changing, so I think it's going to be a great season."
And with his maturity matching his physical growth over the past year, the redshirt junior is ready to assume a new role of leadership heading into the summer months.
"It's been a great spring with a lot of young guys," Strowbridge said. "It's simple things in practice like working on steps whenever we're doing drills. A lot of them understand the concept but it's just keeping that in the back of their mind whenever they're about to take a step or about to play a snap."
But the youth will have to wait in the wings because UNC is returning a wealth of veteran talent up front. Strowbridge is joined by senior tackles in Jalen Dalton and Clarke along with a junior tackle in Crawford on the interior.
"The guys we have now, they've really had a lot of reps in the spring," Strowbridge said. "I think with all the guys coming back the depth is going to be crazy. Everyone is going to have a good understanding of the defense."