CHAPEL HILL, N.C. – North Carolina entered its third and final game against Louisville with a series loss secured and a 7-7 record on file. Despite losing four contests by a single run, suggesting the Tar Heels were playing better than their record suggested, Mike Fox was intrigued to see how his team would respond on the road against a ranked opponent with little on the line but pride.
UNC struck first at Patterson Stadium and piled on late, taking a 10-3 victory and making Fox realize he had something to work with as the ACC schedule got underway. His Tar Heels would win 21 of their next 27 ACC games and 36 of their next 47 overall, steamrolling through the NCAA Tournament regional and super regional rounds with a perfect 5-0 mark.
Along the way, Kyle Datres emerged as the team jokester and Michael Busch as a clutch bat. JUCO Cooper Criswell transitioned from a reliever into the Friday night starter role while Luca Dalatri worked his way back from a stress reaction that had sidelined him for three months. Brandon Riley and Ike Freeman provided production in the middle of UNC's lineup, while Zack Gahagan and Brett Daniels have become the old men of the group, veterans who didn't even reach the NCAA Tournament until their junior seasons and who had no inclination in letting this final opportunity slip away.
"This is a special group," Fox told reporters following his team's super regional-clinching victory over Stetson on Saturday. "This is one of the more special teams that I've been able to coach here. There's something about them."
The 20th-year UNC head coach, who has won 889 games and taken seven teams to the College World Series during his run in Chapel Hill, was asked to expand on that particular comment this week, given the large quantity of talented squads that have defined his tenure.
"We've had teams that have had really good chemistry in the past here," Fox said. "I think it's more about a resolve and an attitude with this group. It's easy after the fact, now that we've won a regional and a super regional, to look back and go, 'you know, that's what they were waiting for.' That may be too simple, but some of our guys just played at a different level, so to me that speaks to how ready they were to get to this point."
In 2013, UNC reached the College World Series for the sixth time in eight years and finished the season with a 59-12 record. An exodus of talent, including juniors Kent Emanuel, Brian Holberton and Colin Moran, led to a down 2014 season (35-27), albeit one that ended in the NCAA Tournament regional in Gainesville, Fla.
While that type of season following 2013's stellar run was not surprising, what came next – a 13-16 ACC record in 2015, the first of back-to-back losing conference records – forced the coaching staff to reevaluate its recruiting approach.
"We said, 'okay, we've got to get back to the core of what's in our locker room and do all we can to make sure that we're not just getting talented kids, but we're getting really high character kids that really care about winning,'" associate head coach Scott Forbes said.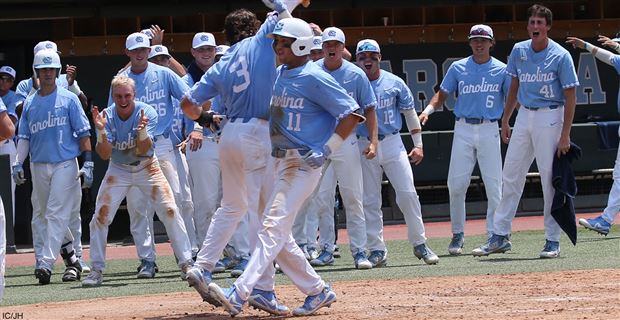 When the Tar Heels were battling for national titles in Omaha for all but two years between 2006 and 2013, their best players were talented and high draft picks, but their unifying quality was a desire to win. Forbes rattled off a list of players that resembles an all-star team that meet that criteria, names such as Adam Warren, Alex White, Dustin Ackley and Chad Flack, among many others.
And so UNC decided to no longer get caught up in the early recruiting trend. If a player wanted to commit as a high school sophomore and the coaching staff had not been able to get to know the kid and his family, they simply bid him farewell and went to work finding his replacement. After missing the NCAA Tournament once again in 2016, UNC bounced back in a big way, winning a program-best 23 ACC games and all 10 conference series.
The foundation had been set for this run to Omaha, and despite the early season struggles, UNC's locker room dynamic has been the determining factor in yet another journey to the heartland.
"I think we've done a really good job of enjoying the moment," Datres said. "We just love being around each other, whether it's here at the field practicing every day, on game day or hanging around the house some. We just all love being around each other, and I think that's what makes this group really special."
UNC opens College World Series play against No. 3 national seed Oregon State at T.D. Ameritrade Park on Saturday (3 p.m. EST).