CHAPEL HILL, N.C. --- With NBA pre-draft team workouts coming to a close this week, North Carolina head coach Roy Williams will start making calls. The goal is to get his two recent graduates and beloved champions in the best pro situations.
The key for Williams is to highlight to NBA front office personnel what Joel Berry and Theo Pinson can bring to the professional ranks. There is plenty of tape out on Berry and Pinson, but Williams's personal touch and insight into intangibles and personality can go a long way.
Williams said he spoke with Berry's agent on Sunday night, as he begins the process of figuring out which teams could be targeting his former players and formulating a plan just over a week before the 2018 NBA Draft on June 21.
"This is the week I will probably call all the teams myself after the workouts are over with," Williams said on Tuesday. "(Berry and Pinson) have had several workouts. Theo may have had more workouts than Joel has. Right now it is just trying to find out what those people think about him, which places both Joel and Theo felt like they played the best, and call those teams.
"If it is (a team) that I think could legitimately be considering Joel and Theo then I will call and talk to them and see if I can clear up some things and hopefully help them."
Berry was the more decorated college player. He finished his UNC career with First-Team All-ACC honors, a year after winning 2017 Final Four Most Outstanding Player. During the 2017-18 season, Berry averaged 17.1 points, 3.5 rebounds, and 3.1 assists while shooting 39.6 percent from the field and 34.4 percent from three.
But Pinson is gaining buzz as potentially the better NBA prospect. In an interview following a workout with the Utah Jazz, he commented how he feels he can fit in with the modern NBA.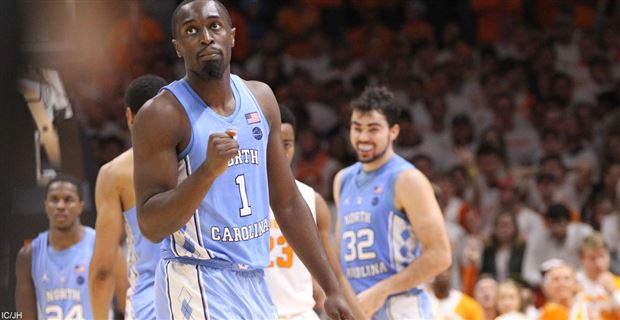 Pinson broke out as a senior at UNC, becoming the team's most important player in the final two months of the season as a scorer, rebounder, distributor, and versatile defender in UNC's smaller, wing-based lineup. The 6-foot-6 Greensboro native averaged 10.3 points, 6.5 rebounds, and 5.1 assists while shooting 47.3 percent from the field and 22.6 percent from three.
"I think Theo is an NBA player. I think he can play in the NBA, I think he can be successful in the NBA," Williams said. "He's something the NBA wants; they want athletes, they want shooters, they want playmakers and I think he's a fantastic playmaker.
"I'm trying to get people to look at him as a point guard; he wasn't called that because we had a pretty good guy at the point guard spot, but Theo was more of a playmaker than anybody we had. He's 6-6, so they like that size as a point guard. Everybody asks questions about whether the ball is going in the basket when he shoots it, but there's a lot of guys that have been successful in the NBA that didn't shoot it as well as everybody wanted them to, and I think Theo can be that kind of guy because he can make plays for other people."
The NBA Draft is Thursday, June 21 in Brooklyn's Barclays Center. Coverage starts at 7 p.m. and can be seen on ESPN.